You're probably thinking of using online local market stores for food shopping because of the recent transportation hike in urban areas like Lagos. The thought is valid. After all, online food markets like Pricepally and Mile 12 Mart offer shopping convenience while taking away market stress. 
But no two online grocery stores are the same, making shoppers struggle to choose the online stores that meet their needs. Likewise, you're likely struggling to choose between Pricepally vs Mile 12 Mart, two online local markets operating in Lagos. But don't fret, the answer you're looking for is in this post. Read on! 
Pricepally vs Mile 12 Mart: Summary table
Let's quickly examine the services both online food market stores provide in a table.
Features 

Pricepally 

Mile 12 Mart

Bulk sharing 

It allows you to share the cost of food items with other shoppers through Pally to save money and address food inflation.

You can't share food prices when you order through the web.

Food products 

The product categories include: 

canned foods and beverages

meat

(e.g., chicken, beef, and ram)

seafood (fish, crayfish, etc.)

foodstuff

(e.g., beans, yam, plantain, garri, potatoes, etc.)

soup

and stew ingredients

baking ingredients

(e.g. flour,

baking soda

, margarine, etc.)

Focuses on: 

fresh fruits

pepper and vegetables

grains

tubers, such as yam and unripe plantain 

 seafood

Order channels

Mobile app (iOS and Android),

web app

, and April (the WhatsApp shopping assistant). 

The web and WhatsApp. 

Referral programs 

For every successful referral, you'll earn 1500 $PAL as a shopping voucher. 

There are no referral schemes at the time of writing. 

Payment methods 

3 payment options: 

ATM card payments through Paystack

Direct bank transfers

Pricepally wallet

Accepts cash payments or payments on delivery. 

Accepts direct bank transfers only. No card payments. 

Pricing

All products are listed at bulk or wholesale prices, making them cheaper and more affordable than local markets and supermarkets. 

Products are listed at wholesale and retail prices. 

Operating locations

Currently operates in Lagos, Abuja, and Port Harcourt. 

Currently operates in Lagos only. 

Extra services and donation

Accepts donations to charity.

Charges an optional ₦1,000 fee for household carriage beyond the regular doorstep delivery.

O

ffers optional extra services, such as pepper deseeding and vegetable slicing. 

Besides delivery fees, it charges a flat fee (#3,000) as service fees as at the time of documentation. 

Delivery time

It offers next-day delivery in Lagos and same-day delivery in Abuja and Port Harcourt when you order before 12 p.m.

Delivers within 24 hours.
Local market shopping: What does Pricepally do?
Pricepally is your one-stop for farm-fresh food items. The food items are sourced directly from farmers, wholesalers, and suppliers. As a result, they're fresher and cheaper than local markets and other online supermarkets. 
For instance, the average price of 1 paint rubber of cayenne pepper (shombo bawa) in Lagos local markets is ₦5,000 in July 2023. But at Pricepally, it sells for ₦3, 095, 38% lower than local markets. Similarly, 1 paint rubber of tomato costs ₦7,200 in local markets, but sells at ₦4,347 on Pricepally—39% lower than other local stores.
Besides, there's Pally, the bulk-sharing feature for splitting food prices with other shoppers and friends. Pally lets you buy unusually large portions of food with less cash. For instance, you can split the price of a bag of rice with friends or other shoppers. This way, you'll get large quantities of rice without breaking the bank. 
To share a bag of rice (50kg) on Pricepally, click on Pally (Share) after choosing the Select Order Type button. Select the portion you want and add it to your cart. The gif below summarizes the process.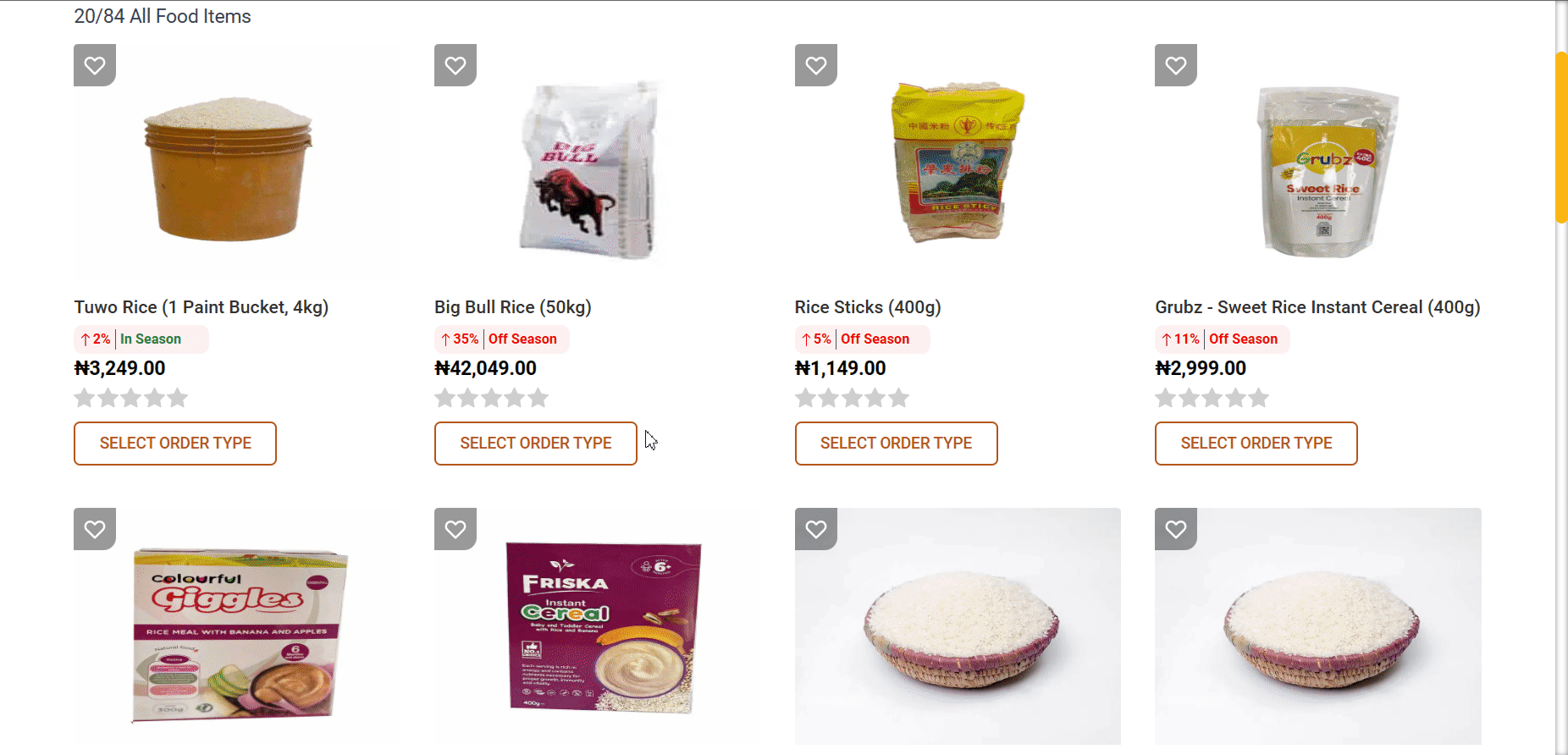 Food shopping should be accessible to everyone. This is why you can place orders through three different channels. The web, the mobile app, and April—Pricepally's WhatsApp shopping assistant.
Shopping convenience extends to delivery. You'll receive your order the same day if you reside in Abuja or Port Harcourt, while you'll receive it the next day if you live in Lagos. You can also schedule the delivery date to help you plan grocery shopping in advance. 
Grocery shopping: What does Mile 12 Mart do? 
Mile 12 Mart is the online replica of the famous wholesale Mile 12 market in Lagos. The online food market focuses on delivering fresh foodstuffs, seafood and meat, and soup ingredients. 
Currently, it operates only in Lagos. It also has two order channels—the web and WhatsApp. 
Pricepally vs Mile 12 Mart: Which online local market is best for you? 
Pricepally and Mile 12 Mart provide access to fresh food items. Additionally, their delivery fees range between #2,000–#3,000. Despite the few similarities between the two online market stores, there are differences you should consider.  
1. Different bulk-buying options
Both online food stores allow you to buy food in bulk, but only Pricepally allows you to share food prices with other shoppers. Mile 12 Mart lets you buy the food items you can afford, although personal shoppers are available to "negotiate on your behalf" for better deals when you order through WhatsApp. As a result, Pricepally is more suited for direct bulk-buying, while Mile 12 Mart is suitable for bulk-buying involving middlemen. 
2. Shopping options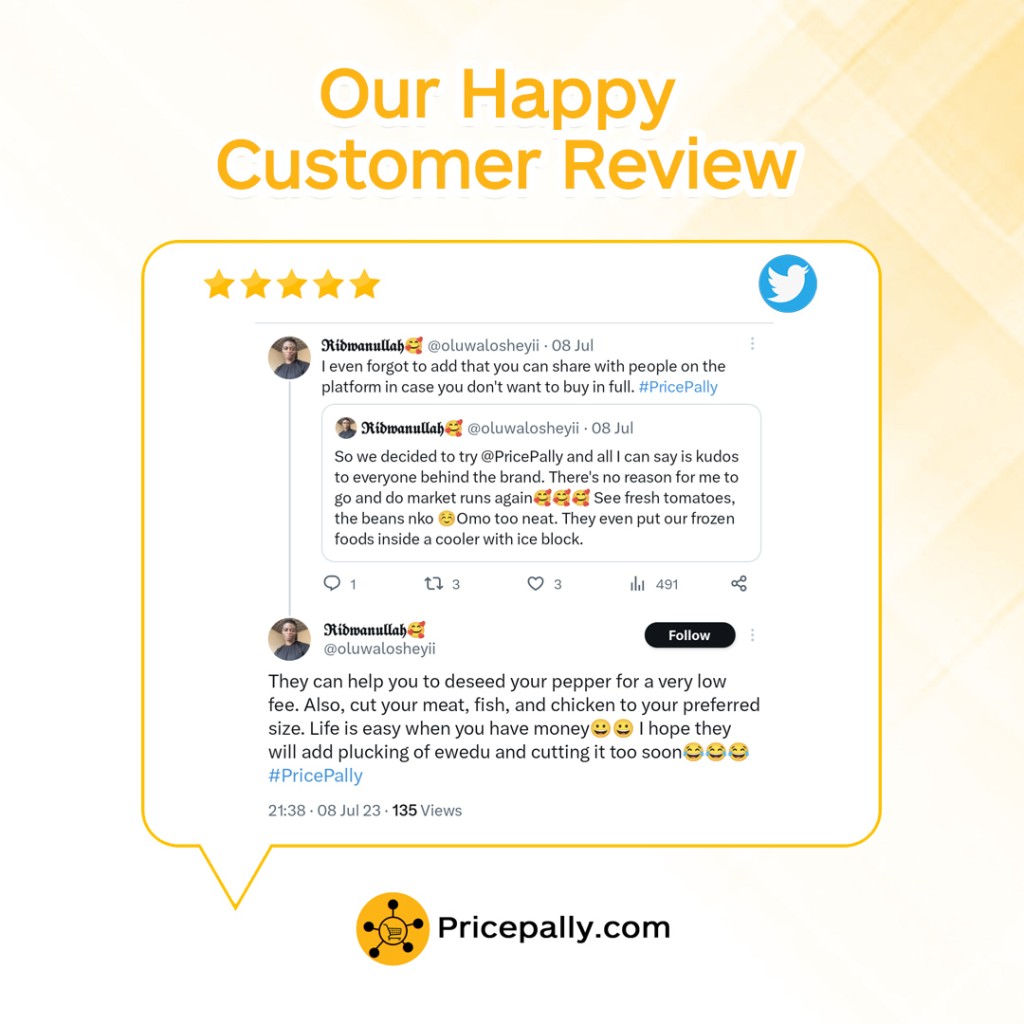 You can shop for farm-fresh food items, baking ingredients, and non-food items (e.g., house supplies) on Pricepally. Mile 12 Mart, however, is limited to fresh foodstuffs. The difference doesn't end there, as Pricepally offers more range per product category. 
For instance, your seafood options at Mile 12 Mart are limited to the following: 
Dried catfish

Herring fish (or deboned

shawa

)

Croaker

Thailand fish

Red prawns

Snail 
In contrast, Pricepally sells the aforementioned seafood items that Mike 12 Mart sells plus the following seafood products: 
The comparison shows that Pricepally offers more shopping options because of its expanded category and wide in-product range. It's also better as your one-stop shop for groceries compared with Mile 12 Mart. 
3. Pricing and extra charges
Both online food marts sell at prices cheaper than local markets. But Pricepally offers better rates. For instance, 1kg of beef cost #4500 at Mile 12 Mart, while it cost #3,649 at Pricepally. 

Mile 12 Mart also includes a mandatory service charge on all orders. For example, if you buy 1kg of green pepper, you'll pay a "service charge" (₦3,000) in addition to the delivery fee, like this: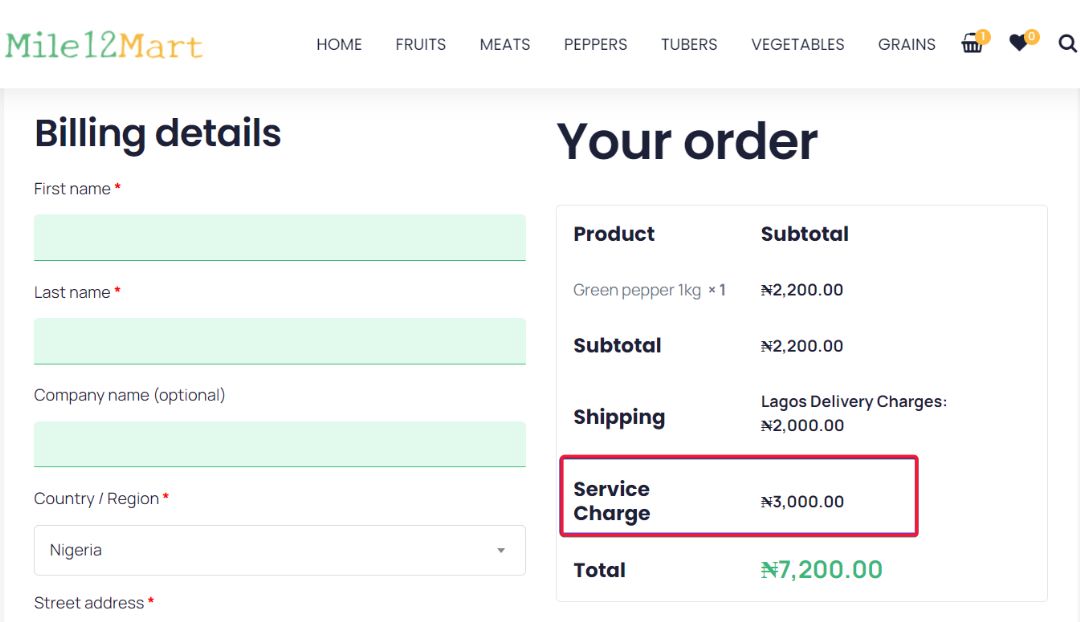 In comparison, Pricepally has no hidden fees or service charges. Instead, it offers the following optional extra services.
Deseeding and surface-level preparation for selected perishable items like vegetables and peppers for as low as ₦500. 
4. Order channels
Both online food market stores allow you to order through the web and WhatsApp. But Pricepally also has a mobile app for bulk shopping, order editing, and delivery updates. 
The status update feature provides delivery transparency. Meanwhile, order editing lets you remove unwanted items from your cart. Order editing isn't available after 10 p.m. before the delivery date to avoid clutter and transportation delays.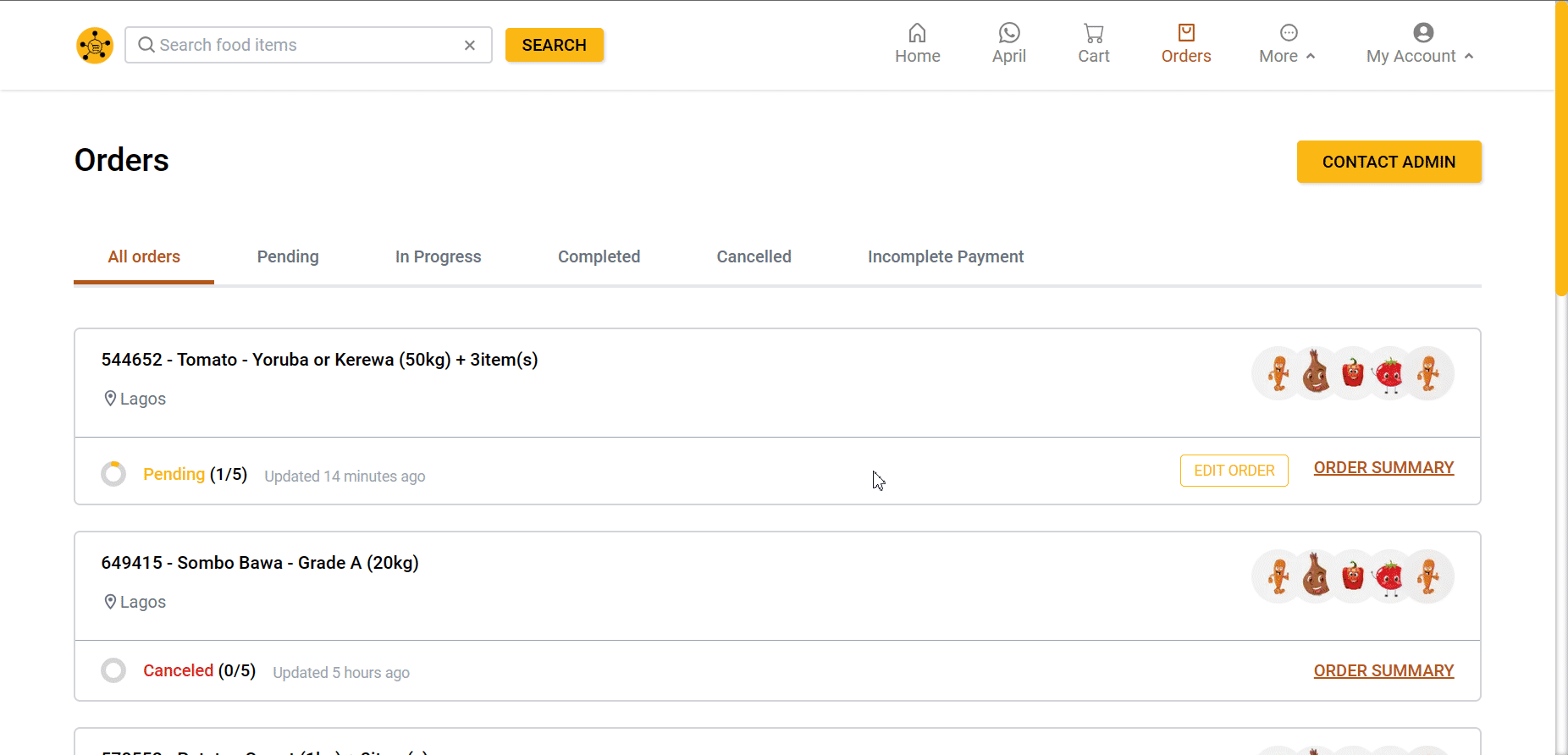 Based on service offerings, product range, and pricing, Pricepally is your best option for buying both food and household items. The Pally feature helps you buy in bulk with less money, as this customer raves on Twitter.