More than half of Lagos is covered in water, so craving seafood checks out. But where can you find the seafood you want? Look no farther because we've made a list of the best 5 seafood restaurants to appease your cravings.
The 5 best seafood spots in Lagos
1. Ocean Basket
Location: 35 Akin Adesola Street, Victoria Island. 
Shop U06, Ist floor, Ikeja City Mall, Alausa, Ikeja. 
Ocean Basket is "mad about seafood, family, and feeling at home," making it the best spot for a timeout with family and friends. Their menu list includes sushi, salmon, prawns, and shrimp. Their menu also includes specialized, curated meals for children. 
2. 788 on the Sea
Location: 2nd Floor, Twin Waters, Okunde Bluewater Zone, Lekki Lagos. 
If you're a big fan of Italian food, 788 on the Sea is the seafood spot for you. The restaurant takes inspiration from modern Italian dishes. Crab and fish soups, Greek seafood salad, spiced calamari, and dill oysters are some of the seafood you can try. 
3. Shark Express
Location: No. 12 Olubunmi Owa Street, off Admiralty Way, Lekki Phase 1. 
Shark Express believes seafood fills your belly and nourishes your skin. The woman-led restaurant provides ocean-fresh seafood boils (a mix of prawns, crawfish, clams, crabs, and corn or potatoes), salads, lobsters, and seafood-filled noodles on its menu. 
4. B.L Restaurant
Location: 147 Younis Bashorun Street, Victoria Island
Do you like Bulgarian and Lebanese cuisines? B.L restaurant is where you should eat. Shrimp suya, tuna-rich pizza, and orange salmon are some of the meal options they offer. Although they serve seafood, it's also a great place for vegan food options. 
5. Sailors Lounge
Location: 1 Admiralty Rd, Lekki Phase 1. 
The Sailors Lounge is your spot if you enjoy the waves of the ocean. Besides the array of seafood, they also offer fun activities, like comedy nights and nightlife parties. 
Which online grocery store sells seafood in Lagos? 
Seafood restaurants satisfy your cravings with cooked meals. But if you want fresh seafood, Pricepally is the online grocery store for you. We partner with farmers to provide fresh seafood and meat at a price that works for you. We also tailor the packaging based on the food item. For instance, seafood and meat items are delivered in ice packs to preserve taste and quality. 
But what if you don't have enough cash to shop for your favorite seafood? Then you can pally with friends to split the bill. Pally lets you share food costs with other shoppers like everyday food groups. But unlike food groups, you can pay for your food slot whether or not other food sharers have paid for their portion. 
Apart from Lagos, we operate and deliver fresh food items in Abuja and Port Harcourt. Irrespective of the Pricepally location you are in, the delivery fee is between #2,000 to #3,000. We also provide same-day delivery in Abuja and Port Harcourt, while you'll receive your orders the next day if you stay in Lagos. 
Which seafood can I buy from Pricepally?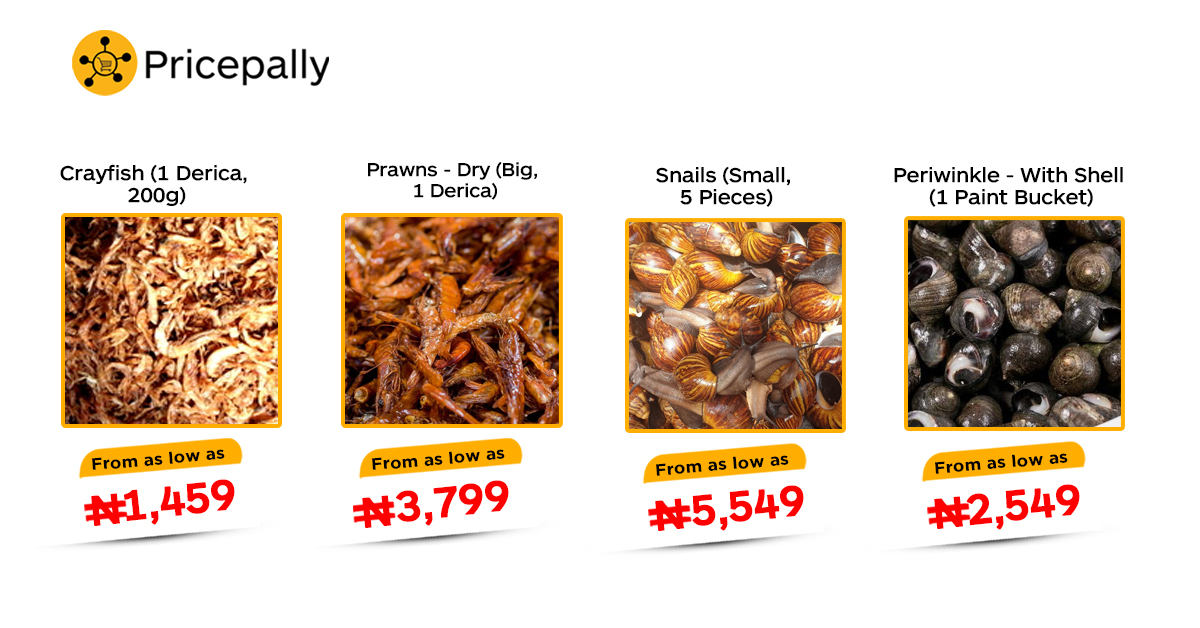 You can shop the following seafood in bulk or in small quantities on Pricepally. 
Fish. Examples are: 
Thailand fish

Tilapia

Ladyfish

Asa fish (also called "eja osan")

Sole fish (or "eja kika")

Bonga fish (or "shawa") 

Horse mackerel ("kote.")

Shiny nose fish 

Frequently Asked Questions about seafood restaurants in Lagos
What's the meaning of seafood?
Seafood includes freshwater and saltwater fish, crustaceans (e.g., lobster and shrimp), molluscan shellfish or mollusks (e.g., clams and oysters), and echinoderms (e.g., sea urchins). 
Can I eat seafood as a vegan? 
In general, vegans abstain from fish, meat, and meat-derived meals. Health, environment, and ethics are some of the reasons vegans don't fancy animal-related products. But pescatarians are vegans that eat fish. Therefore, as a vegan, your diet choice depends on your health history and ethical beliefs. 
How can I share the cost of seafood on Pricepally?
Use Pally to split food costs on Pricepally. To use the feature, follow the steps below: 
On any food item, toggle the "select order type." Select the "Pally (Split Bill)" option.

Choose the number of people you want to pally with. You can split prices with 10 people (max), but this isn't always the case with all food items. Select the number that fits per food item. 

Proceed to checkout. 
Can I eat seafood instead of meat?
Seafood, like fish and shellfish, is a concentrated source of protein, vitamins, and minerals like selenium and zinc. They're also primary sources of heart-friendly omega-3 fatty acids. Because seafood contains essential nutrients that build the body, it's a good dietary choice. But consult your doctor before replacing seafood with meat completely.