Knowing where to shop is half the problem of grocery shopping. But with multiple online grocery stores in Nigeria, especially in urban cities like Lagos, choosing the "right" supermarket isn't easy.
Mano and Pricepally are food delivery companies operating in Nigeria. So, it's likely "Mano vs Pricepally" has crossed your mind, especially if you live in Lagos. But which of the online grocery stores will best serve you? Read on to find out. 
Pricepally vs Mano: Comparison Table
Let's quickly examine the main features of Pricepally and Mano before delving into the details. 
Features
Pricepally
Mano

Bulk sharing 

It allows you to share the cost of food items with other shoppers through Pally to save money and address food inflation.

You can't share the cost of food items.

Food products 

Its product categories include: 

meat

(e.g., chicken, beef, and ram)

seafood (fish, crayfish, etc.)

foodstuff

(e.g., beans, yam, plantain, garri, potatoes, etc.)

Focuses on: 

groceries

alcohol

home essentials

stationery

beauty products

snacks

International cuisines

dairy products

 

Order channels

Mobile app,

web app

, and 

WhatsApp, also called April (a shopping chatbot)

Mobile app and the web. 

In-app savings

No in-app savings. But referrals earn N1,000 on every successful referral program, while the referred gets a 1500 $PAL voucher for shopping. 

You can save money when you order using the app. 

Payment method

Card payments and direct bank transfers through Paystack. Does not accept cash payments or payments on delivery. 

Card payments. Does not accept cash payments.  

Pricing

All products are listed at bulk or wholesale prices, making them cheaper and more affordable than local market prices. 

Products are listed at retail prices. 

Operating locations

Currently, operating in Lagos, Abuja, and Port Harcourt. 

Currently, it operates in Angola (Luanda), Lagos, and Abuja. 

Delivery time 

It offers next-day delivery in Lagos and same-day delivery in Abuja and Port Harcourt when you order before 12 p.m.

Delivers within 15–30 minutes.  
What does Pricepally do?
Pricepally is the home of fresh Nigerian food items. The food items are sourced directly from farmers and wholesalers, making them fresher and cheaper than buying them at local stores. 
Pricepally also lets you share food costs with others through Pally, where you can split food costs with up to ten shoppers at once. Pally helps you buy more grocery items for less money. The feature also makes bulk shopping easy: you can pay for your slot and checkout without waiting for other slot sharers. 
To use Pally for bulk-sharing, click the "select order type" on any food item. Then choose the portion you want to buy. 

The number of people you can pally with depends on the food item. But at any point, you can't split costs with more than 10 people at once.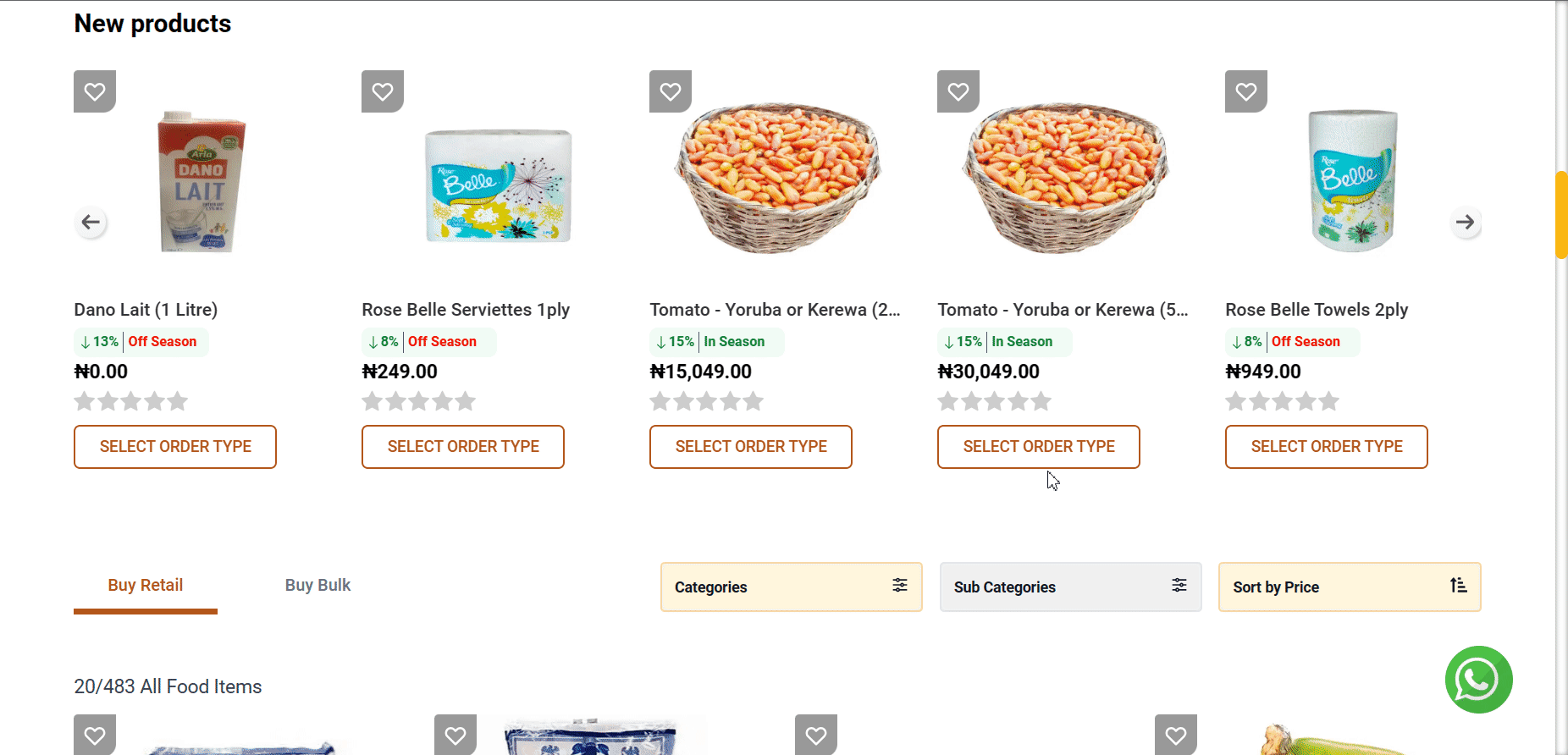 Extra food preparation services, such as deseeding, are available for selected food items like pepper.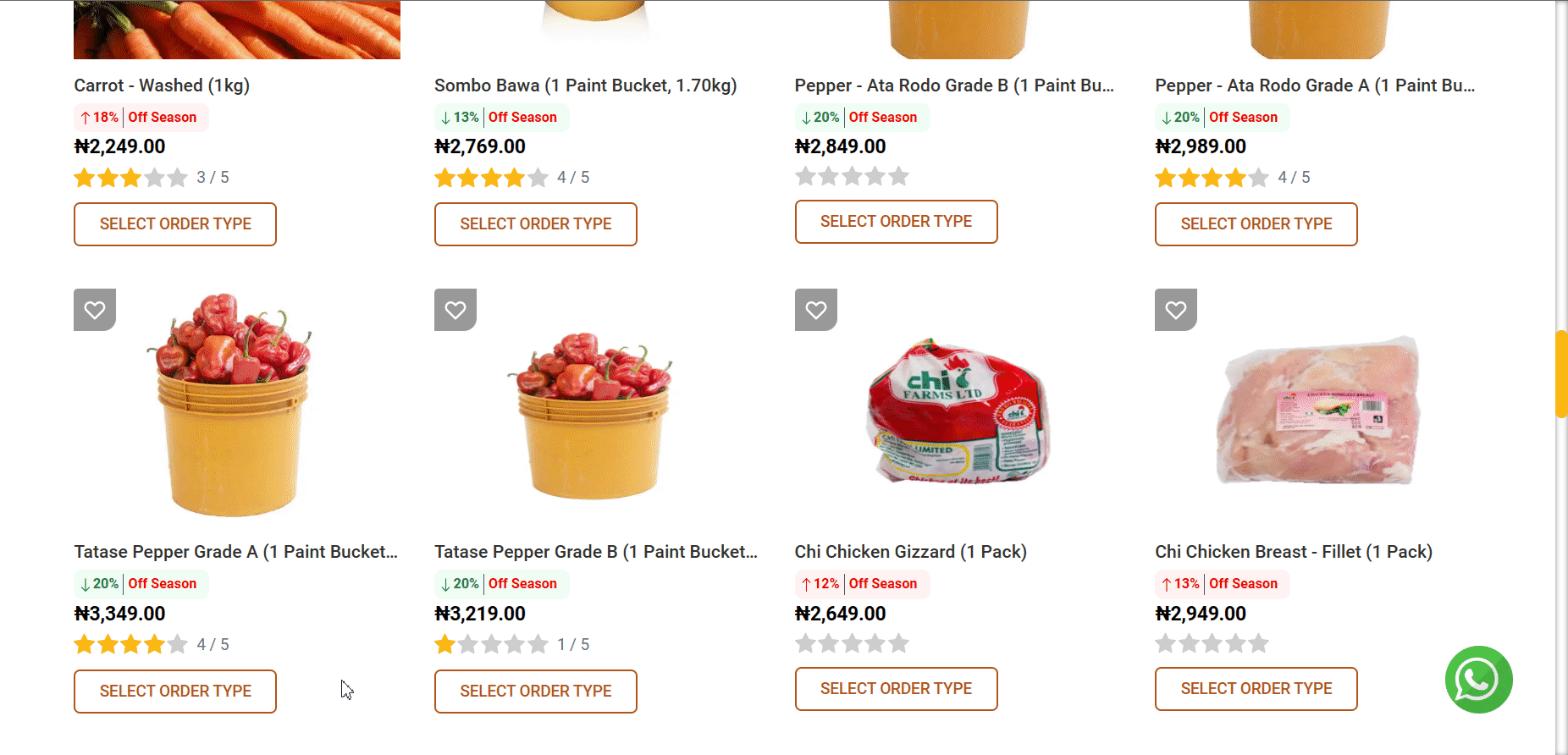 Pricepally also makes shopping convenient and accessible to everyone by providing three channels for shopping. You can order food items through the mobile app, the web, and April—the WhatsApp shopping assistant. Currently, Pricepally operates in three Nigerian cities, Lagos, Abuja, and Port Harcourt. 
What does Mano do? 
Mano is an online supermarket store. It provides access to fresh food and non-food items, including toys and games, home appliances, and baby accessories. 
The food delivery app operates in two Nigerian cities, Abuja and Lagos. It also has two order channels—the mobile app and the web app. 
Mano vs Pricepally: Which online grocery store should I shop?
While Pricepally and Mano are online supermarkets, their product offerings and services are slightly different.
Pricepally is your best shot if you're looking to buy fresh food items in bulk. This is because Pricepally offers Pally, a bulk-sharing feature for sharing the cost of food items with other shoppers. Additionally, the food items are listed at wholesale prices, making them cheaper than buying from other online stores or local markets. 
Unlike Mano, Pricepally lets you order through WhatsApp, making shopping accessible to everyone, irrespective of their tech literacy. You can schedule your delivery, with the fee ranging from #2,000–#3,000 in all Pricepally locations. 
Meanwhile, consider shopping on Mano to stock up on food and non-food items at once. Besides groceries, Mano provides a wider range of home appliances and computing materials at retail prices. 
They also deliver items "within minutes." But unlike Pricepally, Mano doesn't offer scheduled delivery. Mano is also suitable for small and medium businesses looking for partnerships. The online supermarket routinely partners with individuals and businesses to sell its products.