Whether it's Nkwobi—the Igbo delicacy made from spicy cow foot—or grilled meat, fondly called "suya," Nigerians don't joke with meat. This is why we curated the best online meat stores in Lagos. 
Top 5 online meat stores in Lagos
1. Pricepally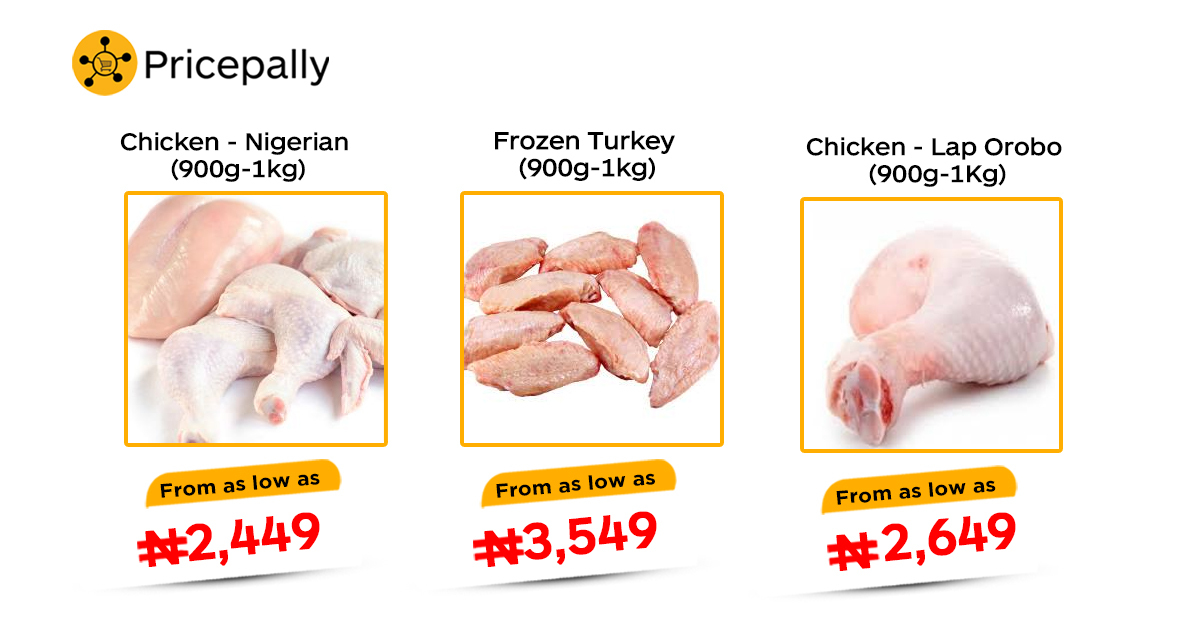 Pricepally is the home of fresh food items. But that's not all they offer. You can also buy frozen and live meat, such as poultry and turkey (or white meat), seafood (e.g., periwinkle, snail, fish, etc.), and red meat (beef, ram, etc.). 
Currently, Pricepally operates in three locations in Nigeria: Lagos, Abuja, and Port Harcourt. The delivery fee ranges from #1,000 to #2,000 in all locations. 
In Abuja and Port Harcourt, your orders will arrive on the same day if you order before noon. But in Lagos, you'll receive your order the next day. 
Why should I buy meat from Pricepally?
Cheaper than local markets: Like other food items, Pricepally sources meat directly from wholesalers and farmers. As a result, the meat is cheaper and fresher than at local markets. We also deliver meat in an iced box to preserve its freshness.

Pally makes the difference:

Pally makes bulk buying

easy for you. It helps you share the cost of food items, including meat. For instance, you can pally with an existing Pricepally user or a new shopper to buy a carton of chicken wings.

Like regular shopping groups, you can share meat prices with multiple people at once. But unlike food groups, you can pay for your slot whether it's complete or not. You can also share prices with 2-10 people, depending on the food items.

Accessibility: Shopping is for everyone, and it should be convenient. This is why we have three different channels for shopping. You can shop through April—the WhatsApp shopping assistant—the mobile app, and the website. 

Scheduled delivery: Looking to shop in advance? You can do that on Pricepally. You can choose a convenient day and time for your meat orders through the scheduled delivery option. 

All-in-one meat shopping: Meat delicacies are incomplete without

spices and seasonings

. At Pricepally, you can shop for meat condiments alongside meat products. 
2. Alli & Sons (A&S) Butchers
A&S Butchers is a renowned meat store in Lagos. They let you shop for meat, chicken, fish, lamb/mutton, pork, and turkey in bulk and retail. 
A&S Butchers offers next-day delivery. The delivery fee ranges between #1,500-#2500 for every location. It also offers free shipping on orders above 40 kg. 
3. Fizz foods
Fizz Foods specializes in packaged and processed meats. You can shop for frozen beef, chicken, turkey, fish, and gizzards. But Fizz Foods has a minimum order unit of 10 kg, making it suitable for bulk meat shopping. 
Unlike A&S Butcher, you can also buy live goats. But live chicken isn't available. It ships within 24 hours and charges a flat rate of #1,000 for shipping.
4. Mile 12 Market
Like Pricepally, Mile 12 is an online grocery store for shopping seafood (dried, fresh, and frozen), alongside live and frozen meat (beef, goat, lamb, and ram). It assigns personal shoppers to run your shopping errands.
It offers same-day delivery when you order before 8 a.m. Otherwise, the order will be fulfilled the next day. The delivery fee is free for orders above #3,000. For orders below #3,000, the standard price is #700. 
5. Supermart.ng
Supermart.ng is an online grocery and food delivery company. It hosts 20+ supermarkets and retail stores, including Mile 12 Market, to make shopping swift and convenient. Similar to Mile 12 Market, it also offers personal shoppers to collect and fulfill your orders. 
It's suitable for buying frozen meat and seafood in retail quantities. It offers same-day delivery, and it operates throughout the week from 12 p.m. to 9 p.m. The delivery fee, including the personal shoppers, starts at #499.
Frequently Asked Questions about online meat shopping in Nigeria
How much is 1 kg of cow meat or beef?
As of the time of writing, the price of 1 kg of cow meat starts at #3,649, depending on whether the meat has bones or not, on Pricepally. 
Is it healthy to eat pork? 
Pork is made from domestic pigs. It's a high-protein food with high-fat contents, including all the essential amino acids your body needs for growth. Unlike beef, pork is rich in vitamin B (3, 6, and 12) and minerals (e.g., selenium, zinc, iron, phosphorus, and zinc) that improve the brain and immune system. 
What's the English name of "saki"
The English name is fresh cow stomach.