Three things are constant in Nigeria: Death, taxes, and the prices of tomatoes reaching sky-high levels. 2023 didn't buck the trend. In fact, tomato prices reached a three-year high this year, making them the new gold. As a Nigerian, that's bad news because tomatoes go into almost every meal we prepare. But the Nigerian dish has too much range to be "out-tomatoed." So, we made a list of healthy Nigerian dishes you can prepare without tomatoes. 
5 healthy Nigerian dishes you can prepare without tomatoes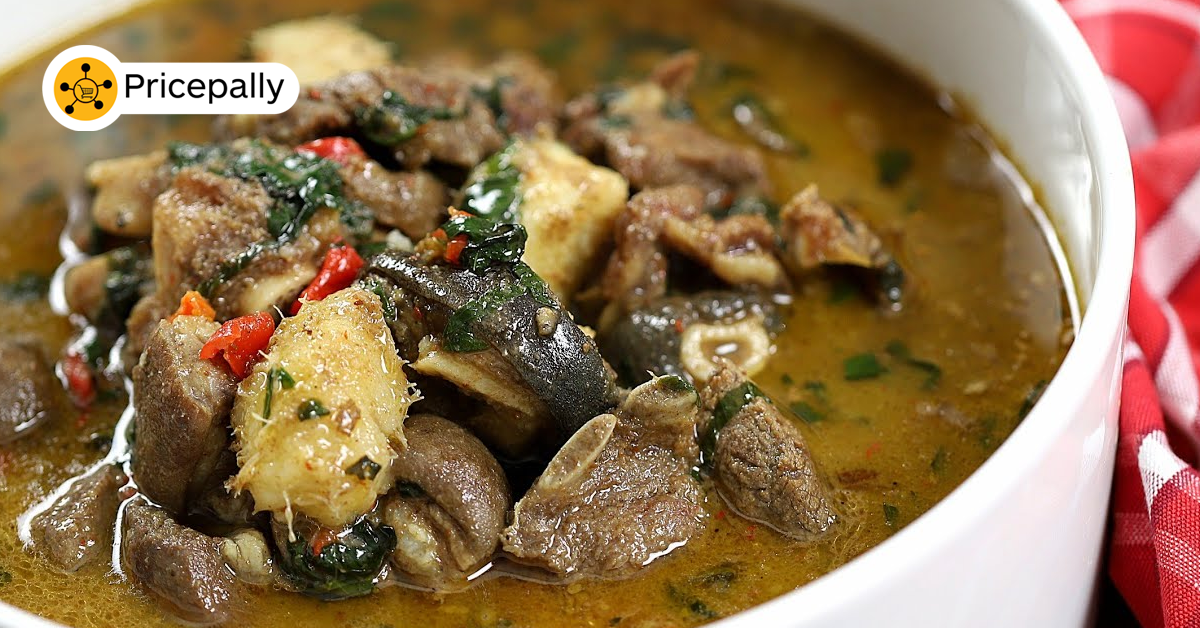 1. Pepper soup
Pepper soup is what you get when you allow spices, herbs, and animal protein to just "do their thing." The spicy soup contains low calories but is rich in vitamins, minerals (e.g., potassium and iron), and fiber. As a result, it boosts immunity, fights off infection, and improves digestion. 
Goat meat pepper soup ingredients
Salt 

Seasoning powder 

Cameroon pepper

(optional)
How to prepare goat meat Nigerian pepper soup 
After washing the

goat meat

, cut it into small pieces. Add the meat to a pot and add 1 teaspoon of seasoning powder and salt. Make pepper pureé by blending the scotch bonnet pepper, onions, and Cameroon pepper. 

Add the pepper pureé to the pot containing the meat and mix. Allow it to boil for 15-30 minutes. 

After boiling for 20 minutes, add crayfish powder and 2–3 cups of water, depending on the quantity of the meat. 

Add diced scotch bonnet pepper to the boiling goat meat. Ensure you remove the seeds before cutting the pepper.  At this point, add vegetable oil to add a little bit of shine to your pepper soup, although it's not compulsory. 

Add diced scent leaf. Cut the leaf when you're about to use it to preserve the aroma and nutrients. Allow it to simmer together for 5–10 minutes. Enjoy your meal. 
Are you still unsure about how the recipe work? Watch food blogger, Tspices Kitchen explains how to prepare goat meat Nigerian pepper soup on Youtube.
2. Ofada (or ayamase) stew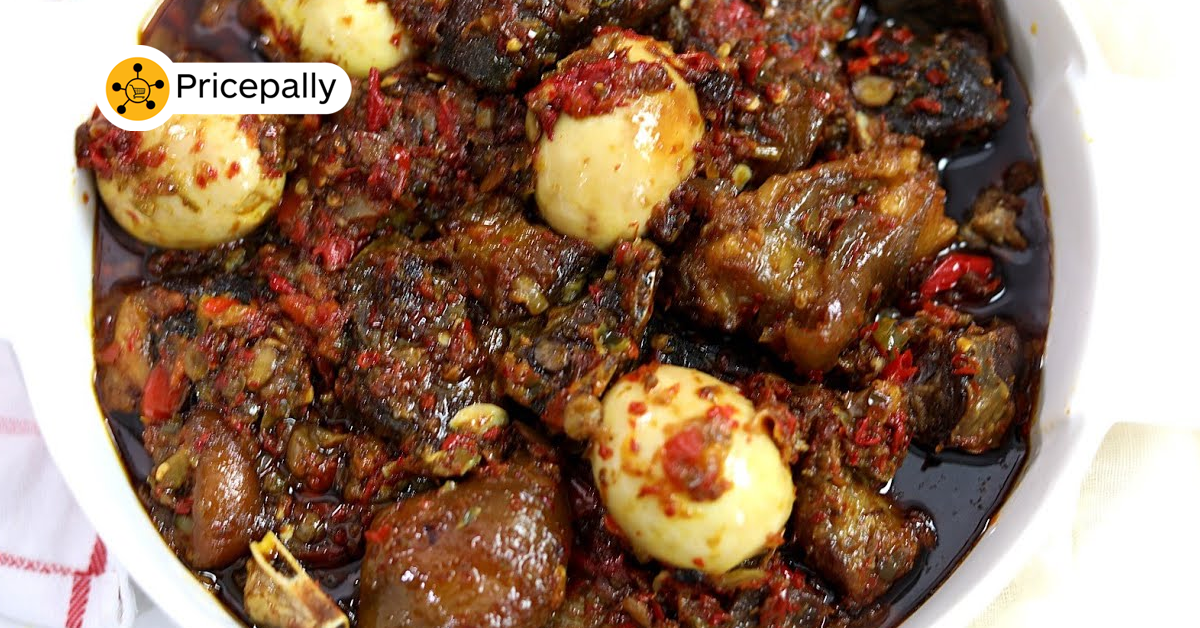 Lagosians already know the supremacy of ofada rice—the high-fiber, unpolished rice rich in antioxidants, vitamins, and minerals. The rice also comes with its sauce, the ayamase stew, the soup made from pepper, spices, and beef. 
The list of ayamase stew ingredients 
Assorted meat (cow tripe, liver, roundabout, heart, etc.)

Ponmo

Crayfish powder

Seasoning powder

Scotch bonnet pepper

Onions

Palm oil
P.S: Pricepally is your one-stop shop for soup ingredients, seafood, and animal proteins in Lagos, Abuja, and Port-Harcourt.
Ofada stew recipe
Learn the recipe from Tspices Kitchen's Youtube video:
Wash the assorted meat (also called

tinu eran

by Yorubas) with fresh water. Add seasoning powder, onions, and salt. Boil for 20 minutes. After boiling, cut the meat into smaller pieces. 

Remove the tatashe seeds to avoid a sour taste. Blend tatashe, shombo, and onion. But don't blend the pepper pureé to a smooth texture. 

Bleach the palm oil in a pot covered with a lid for 3–5 minutes on medium heat. Fry the assorted meat in bleached palm oil. 

After frying the meat, use the bleached oil to fry diced onions and locust beans. Add the blended pepper and fry the mixture together. Add seasoning powder, salt, and crayfish powder. Allow it to cook for 10 minutes. Add meat stock or water and allow it to simmer for 5–10 minutes. 

Add your meat, eggs, and other animal proteins you want to add. Serve the stew with Ofada rice. 
3. Ewa agoyin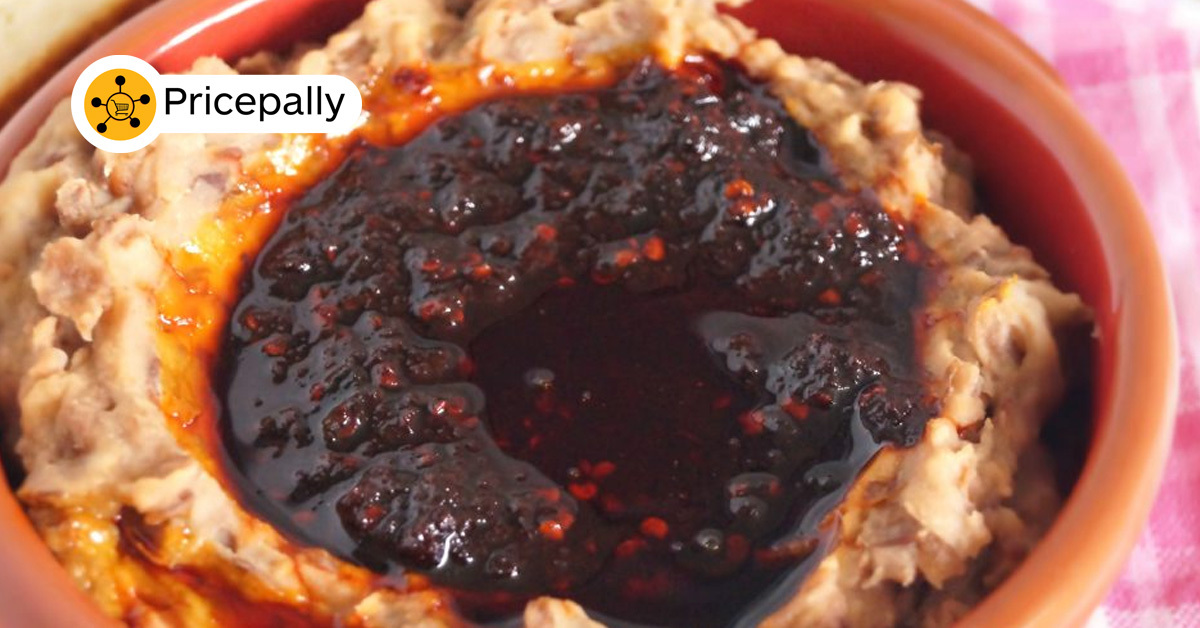 Ewa agoyin, aka boiled beans, is a popular street food in Nigeria. It's made from boiled, mashable beans served with a spicy sauce. It's the perfect meal for filling up your protein and mineral levels. Black-eyed pea, the bean type used for making ewa agoyin, supports weight loss, promotes heart health, and improves the digestive system. 
Ewa agoyin ingredients 
Dried chili pepper

Palm oil

Salt

Onions

Crayfish (optional)

Black-eyed peas, fondly called

honey beans (

ewa oloyin

)
Ewa agoyin recipe 
Cook beans and onion in a pot until they're very soft. 

Soak the dried chili and bell peppers in hot water for 3-5 minutes to make them soft for easy blending. Add onions and blend the mixture. 

Add chopped onions to bleached palm oil. Fry the onions until the onions turn brown. Add the pepper and stir it. Add salt, seasoning powder, and crayfish (optional) after frying for 5-10 minutes on medium heat. 

Keep stirring and frying until it turns dark brown. 

Mash the beans with a turning stick. Serve the beans with ewa agoyin.
4. Coconut rice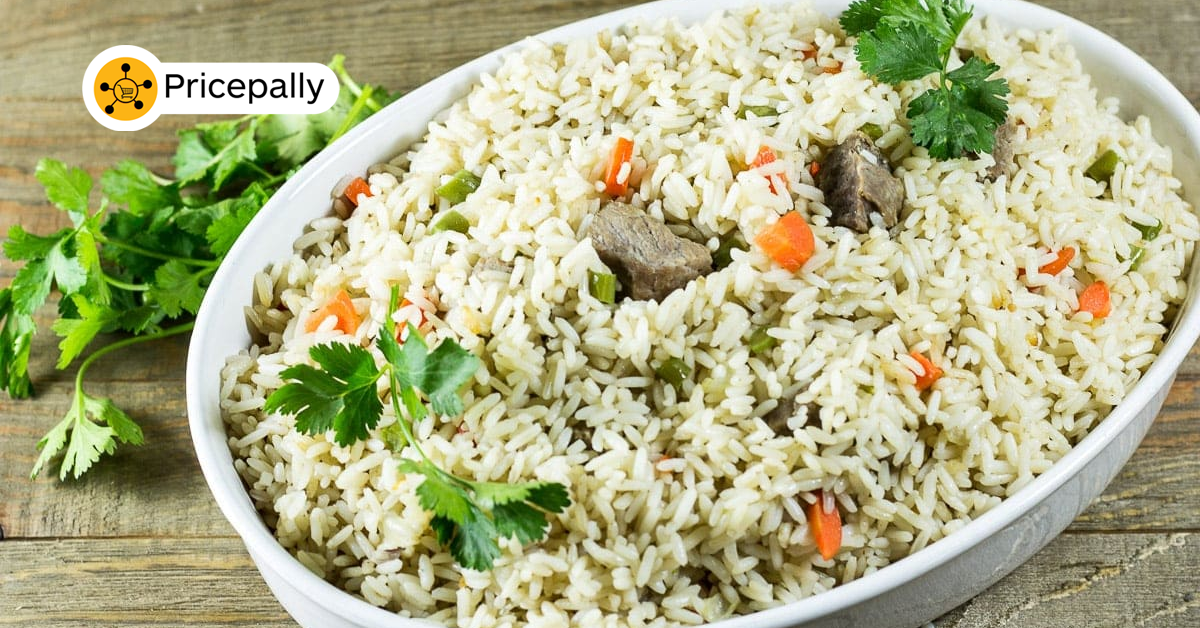 Tired of rice and stew but still want rice? Try coconut rice. It's a mix of coconut, coconut milk, and rice. The milk contains vitamin C, minerals (e.g., potassium, selenium, magnesium, and iron), protein, and saturated fat. While coconut milk contains high calories, it also contains medium-chain fatty acids (MCTs) that boost appetite and fat burning. 
Coconut rice ingredients
Onion powder

Cayenne pepper (optional) 

Green bell pepper

Fresh scotch bonnet pepper

Green beans

Crayfish

Seasoning cubes

Salt 
Coconut rice recipe
Watch how food creator, Sisi Yemmie prepares coconut rice in less than 10 minutes.
The step-by-step explanation:
Boil rice for 10–15 minutes. Remove the water and wash it 2–3 times. 

Break the coconut and blend till it's smooth. Drain the blended coconut with a sieve to get

coconut milk

. Keep some coconuts for later use. 

Add chopped onions, ginger, green beans, scotch bonnet pepper, and green bell pepper to hot coconut oil. After frying for a few minutes, add paprika, garlic and onion powders, thyme, seasoning cubes, and salt. 

Add coconut milk and the parboiled rice. Allow to cook for 10–15 minutes. Then add crayfish and shredded coconut. Allow it to cook until it's soft. 
5. Ila alasepo (stewed okra)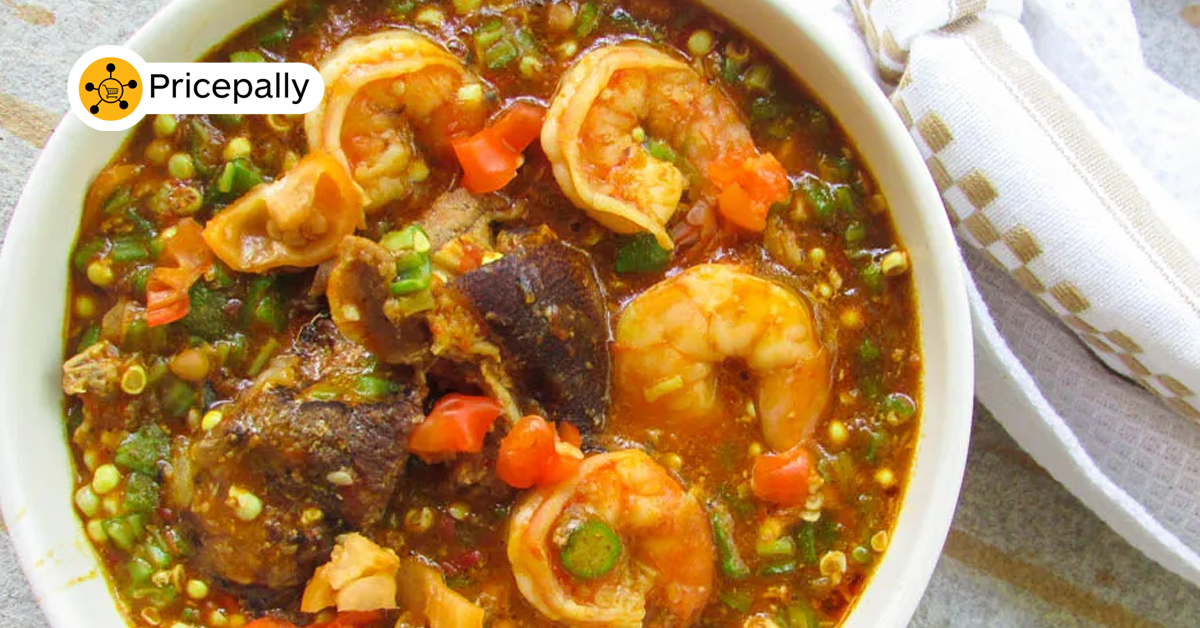 Ila alasepo is spicy stewed okra filled with fiber, vitamins (A, B6, C, and K), magnesium, and protein. Because it contains low carbohydrates, it helps control blood sugar and lowers the risk of heart disease. Ila alasepo is also perfect for eating "swallow" foods like pounded yam, fufu, and eba.
To enjoy the ila alasepo delicacy, you need these ingredients: 
Goat meat 

Scotch bonnet pepper

Seasoning powder

salt
How to prepare ila alasepo
Cut the okra and pepper into pieces and set them aside in separate bowls. 

Wash the goat meat. Add seasoning, salt, onions, and a little water. Allow it to cook for a few minutes.

Under medium heat, add palm oil, okra, onions, diced pepper, and stockfish to a pot. Add the meat stock, mix it, and allow it to cook for 5–10 minutes. 
Watch how Tspices Kitchen explains the recipe in this 5-minute Youtube video.
Where can I buy soup ingredients in bulk?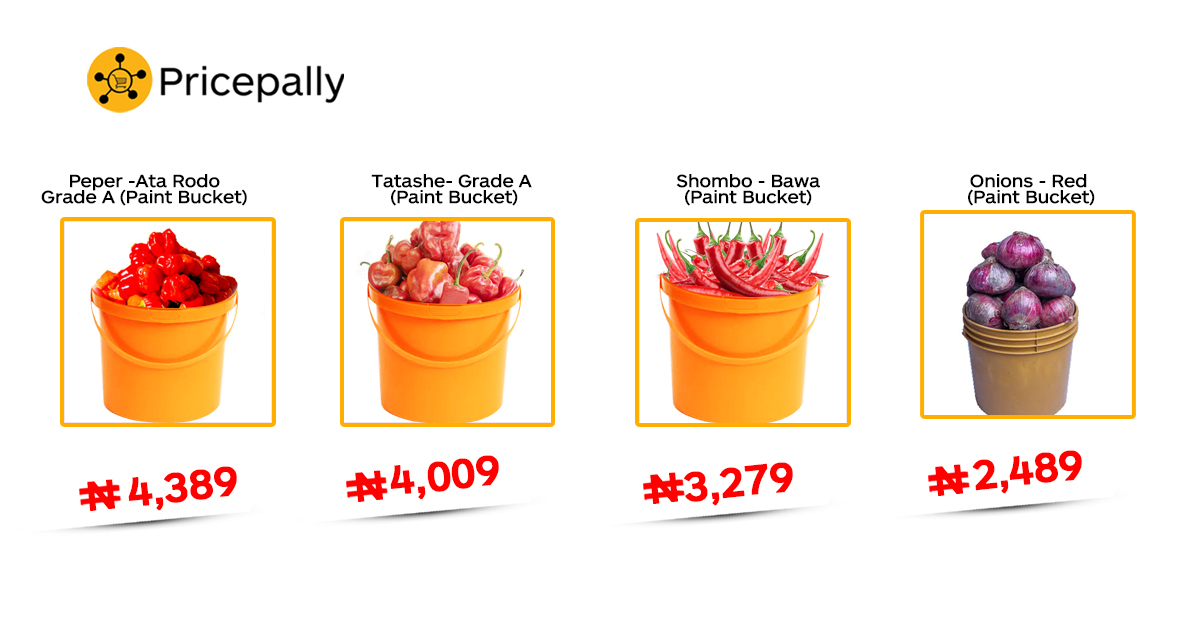 Food insecurity is a problem in Nigeria, as staple food items are prohibitively expensive. High transportation fees are the main driver for the food price hike. But bulk shopping can help you move past the current food price surge.  
Besides removing the stress of frequent market trips, bulk shopping also saves you transportation costs. You can take bulk-buying a tier higher with Pricepally, where you can buy fresh foodstuffs in bulk at cheaper rates than local markets, as the gif below shows you. 
What's more? You can share food costs with friends or other shoppers through Pally. For instance, you can split the payment for a paint bucket of tomatoes with another shopper. This way, you can buy more tomatoes with less cash. 
The delivery process is also on us. We'll deliver your food orders the same day if you live in Port Harcourt or Abuja, while you'll receive your order the next day if you're in Lagos. Regardless of your venue, delivery fees don't exceed the ₦2,000–₦3,000 range.