By the time you're through reading this piece, there's a good chance the prices of tomatoes have increased for the umpteenth time within the last few days. Here's why: On Tuesday, June 26, 2023, the price of a 50kg tomato basket increased from ₦64,000 to a three-year high of ₦100,000 within a few hours. To put the increase in perspective: In June 2022, the same quantity of tomatoes cost ₦36,000. The difference is as astronomical as it is obvious.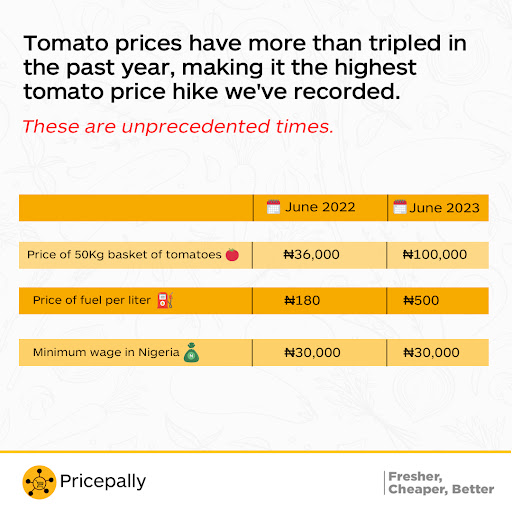 Tomatoes aren't the only casualty of the recent price surge. Food prices, in general, aren't slowing down. The May 2023 Consumer Price Index sheds more light: Volatile agricultural produce increased by 19.86% year-on-year, up from 5.94% in March 2022.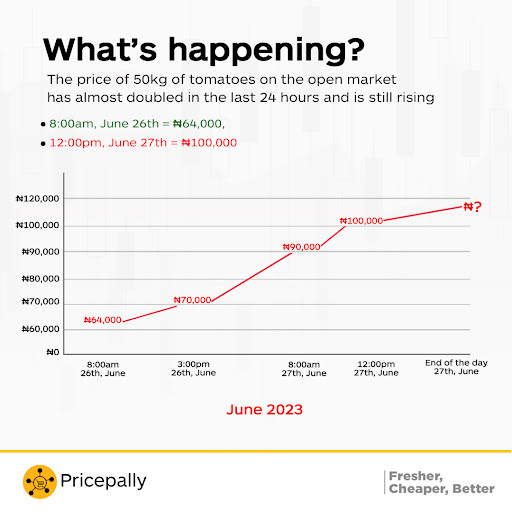 Why are food prices as unstable as the stock market? UNICEF cited the consistent banditry in the northeastern parts of Nigeria as a leading cause of food insecurity in Nigeria. Additionally, the global food organization believes the climate is partly culpable for the food insecurity issues in Nigeria, as widespread flooding damaged over 676,000 hectares of farmland during the rainy season in 2022. In cases like tomato production, pest infections, such as the recent Tuta absoluta (tomato ebola), also reduce production and quality. 
The temporary cash scarcity during the first three months of 2023 also negatively affected the agricultural sector. The repressed spending affected transportation fares and farmers' ability to pay for labor, which reduced food production. When farm produce was available, there was latent demand. No fewer than 8 out of 10 households and 76% of businesses experienced cash flow problems during the cash shortage, per the Jollof rice index by SBM Intelligence, an Africa-focused geopolitical research platform. 
Shortly after the cash saga, the "subsidy is gone" pronouncement on May 29, 2023, came in. The 156% fuel hike immediately raised transportation costs, further increasing the price of food. "The situation is dire right now. Food prices as a result of the hike in petrol prices are non-negotiable. That's a reality," Kabir Ibrahim, the President of the All Farmers Association of Nigeria (AFAN), told The Punch.
"The situation is dire right now. Food prices as a result of the hike in petrol prices are non-negotiable. That's a reality,"
Summarily, the factors affecting food prices in Nigeria are:
Insecurity in the northeastern parts of Nigeria.

Climate change, which caused widespread flooding. 

Pest infection.

Cash scarcity in the opening months of the year.

Fuel subsidy removal and high transportation expenses.
As Ibrahim pointed out, food prices are currently dire. But how deeply is the fuel subsidy removal affecting the prices of food? More importantly, how can you weave through the current food surge? We'll unpack the answers to these questions in this report. 
A deep dive into the Nigerian food market
The Pricepally price index tracks the prices of staple foodstuffs in Nigeria. The index helps customers make better shopping decisions. 
In the March 2023 edition of the price index, 1 kg of tomato was cheaper in Abuja (₦418) compared to Lagos (#520) and Port Harcourt (₦652.75).  A similar trend applied to other staple foodstuffs like scotch bonnet pepper (atarodo), onion, rice, and vegetables. But garri was cheaper in Lagos (₦450) compared with Abuja (₦480) and Port Harcourt (₦434).

In Lagos, staple foods are slightly cheaper at Mushin and Oyingbo markets compared with New Lekki and Ajah markets. In April 2023, a 3.2 kg bucket of cayenne pepper (shombo) cost ₦1,625 at Oyingbo and Mushin markets, while the price stood at ₦1,750 and ₦2,575 at New Lekki and Ajah markets, respectively. 
The prices of staple foods have surged recently. Shortly before the June 2023 Eid-al-Adha celebrations, tomatoes (3.2 kg) rose to ₦11,000 at Ajah market, a 124% increase from March. However, it was slightly cheaper in Oyingbo (₦8,000) and Jakande markets (₦10,000). Scotch bonnet pepper grew by at least 19% at Jakande, Ajah, and Oyingbo markets. 
At Ajah market, bell pepper (tatashe) and cayenne pepper increased by 38% and 23%, respectively. Meanwhile, between March and June, the price of onions rose by 62% to reach ₦4,500 in Jakande, Ajah, and Oyingbo markets.

SBM Intelligence corroborated Pricepally's data through its Jollof rice index. The report shows the cost of preparing Jollof rice across 13 markets in six geopolitical zones in Nigeria. In April 2023, SBM recorded a seven-year high of 166.3%. Between September 2022 and March 2023, the cost of preparing Jollof rice rose from ₦9,917 to ₦10,882—a 9.73% increase. To explain in simple terms, if you're earning minimum wage (₦30,000), you'd need to spend 36.3%, or more than a third (₦10,882), to prepare a pot of Jollof rice. 
If you're earning minimum wage (₦30,000), you'd need to spend 36.3%, or more than a third (₦10,882), to prepare a pot of Jollof rice. 
Like Pricepally's index report, SBM's data revealed fluctuations across different markets in Nigeria. For instance, Wuse II in Abuja recorded the highest cost of making a pot of Jollof rice ₦13,150, while Onitasha had the cheapest price at ₦8,510. Port Harcourt (22.7%), Calabar Municipal (14.7%), Bayelsa Mbakpa (13.7%), and Kano (13.3%) experienced the highest percentage increases. SBM believes fuel subsidy removal is primarily responsible for the surge in Port Harcourt. In contrast, Akwa and Trade Fair Market (2.9%) had the lowest increase among the lots.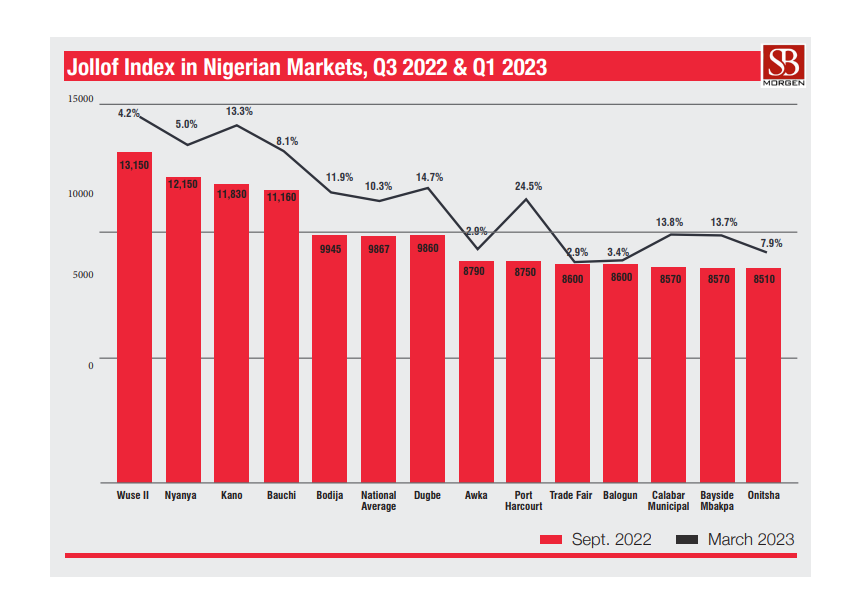 What next? 
Food insecurity—the food you need to meet the minimum calorie requirements—is unlikely to go away anytime soon. The Food and Agriculture Organization (FAO) and Cadre Harmonisé projected in January 2023 that "nearly 25 million Nigerians are at risk of facing hunger between June and August 2023 (lean season)." 
Likewise, Ibrahim (the President of AFAN) believes that the higher the pump price of petrol, the more food prices will suffer. "I see a situation where the prices of food items would take the biggest hit and would definitely rise because of the increase in the pump price of petrol," he explained to The Punch.  
1. Create a shopping list
A shopping list helps you prioritize the food you need based on your health goals, not what you feel like buying. Follow the tips below to create a shopping list:
Know your health goals. 

Take inventory of your food to

avoid overspending on grocery items.

 

Organize the list based on shelf life. Generally, fresh foods with longer shelf life take precedence over non-perishables like vegetables. Feel free to tweak your priority list as you see fit. 
2. Buy food in bulk
Why go to the market three or four times when you can do it once? Bulk buying helps you save money on transportation, which has increased exponentially since the subsidy removal.  
Pally, Pricepally's bulk-sharing feature, is one way to buy food in medium or large quantities at once. It helps you split food prices with friends and other shoppers. For instance, you can split the cost of a paint bucket of tomatoes with other shoppers, making you shop for more with significantly lower fees.
Here's how Pally works on Pricepally. 
Log in to your Pricepally account on the web or mobile app. Choose the food you want to buy, as the gif shows.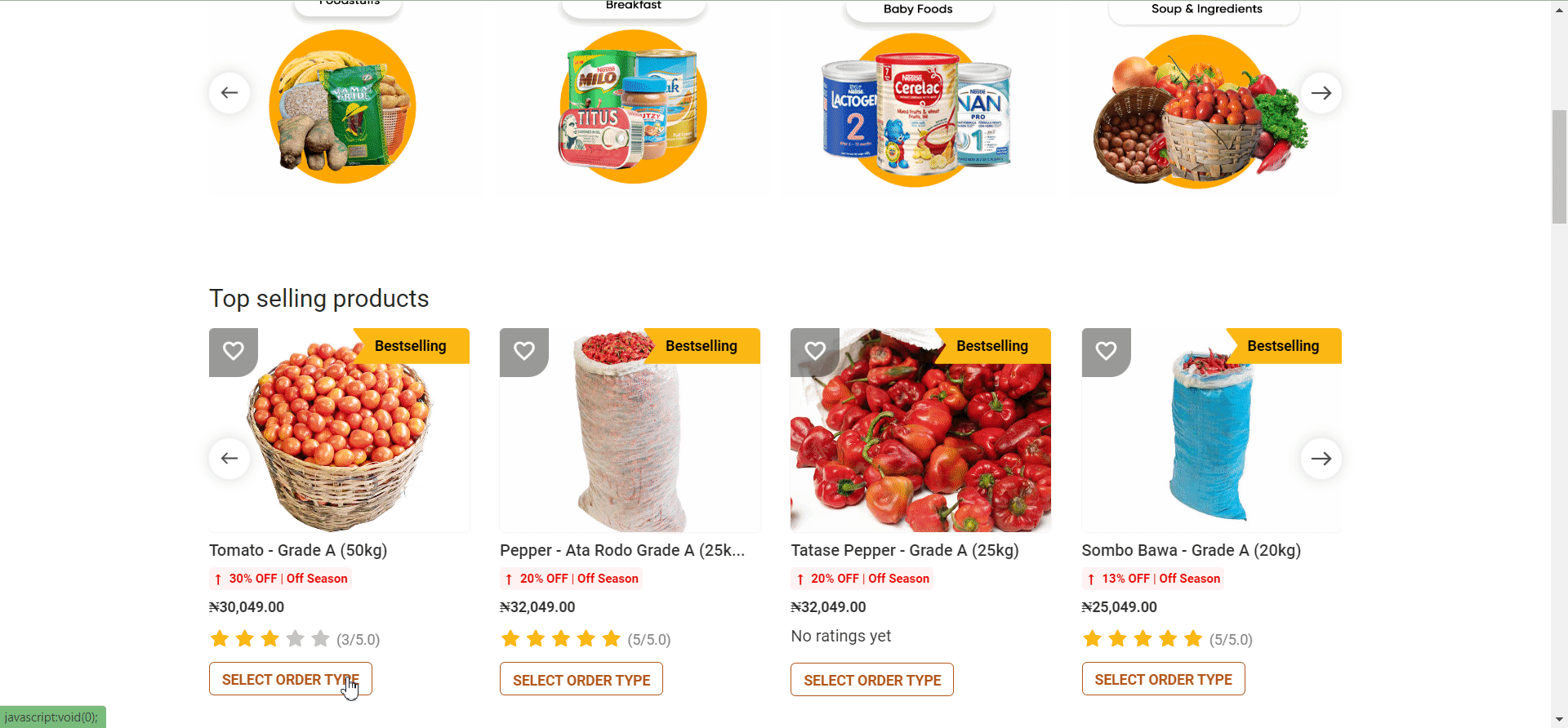 Select "Pally (Split Bill)" under "Select Order Type." Select the number of people you want to share food prices with and proceed to checkout. 

We also have preexisting Pally deals detailing the prices of available slots. All you need to do is click "Buy Slot" to proceed to the checkout. 
3. Shop online
This is the best time to shop at online grocery stores to save money on transportation. You're also likely to enjoy discounts and cheaper rates compared with local markets, especially when you shop from Pricepally.
Pricepally sources food directly from farmers and suppliers, making our food items fresher and cheaper than local stores.
For instance, on Pricepally, you can buy tomatoes and peppers in grades A and B to save money. Grade A is thick, solid, and ripe, while grade B is a mix of solid and soft. Still unsure what we mean? Check out this short video about grade A and B tomatoes.