Welcome to our May food news, where we bring you the juiciest news stories and exciting updates that'll leave you craving for more.
In this edition, we have an exciting lineup of news stories that highlight the diverse aspects of Nigeria's culinary landscape. We'll explore innovative approaches in the livestock sector, the challenges onion processors face, and even a daring cooking marathon bid.
We'll dive deep into the latest happenings that impact the food industry. So, whether you're a food lover, a curious connoisseur, or simply seeking the latest buzz from the Nigerian food space, we've got you covered.
IN MAY'S EDITION
Nigerian Chef Hilda Baci Aims for Culinary Record with 100-Hour Cooking Marathon

FG Advocates for Alternative Ingredients in the Livestock Sector
Concerns Sparked for Onion Processors due to ₦300bn Post-Harvest Loss
Eko Rice Set to Hit Major Markets in June
Initiatives to Combat Widespread Hunger in Nigeria
Nigerian Chef Hilda Baci Aims to Set Culinary Record with 100-Hour Cooking Marathon
Hilda Baci cooked up a storm with the aim of securing a world record. She captured headlines worldwide when she launched her cooking marathon, determined to break Lata Tondon's current record of the longest cooking marathon by an individual, which stands at 87 hours and 45 minutes.
Hilda embarked on her remarkable challenge, cooking continuously from Thursday to Monday. Throughout her impressive 100-hour stint, she whipped up a staggering 55 recipes and prepared over 100 meals. Her motivation for undertaking this challenge was to showcase Nigerian cuisine, believing that by promoting Nigerian recipes, more people would be inclined to try this exceptional comfort food. According to Hilda, "Nigerian cuisine is the best out there. The more recipes we propagate, the more people will be willing to try them. Nigerian food is such comfort food."
FG Advocates for Alternative Ingredients in the Livestock Sector
The Federal Ministry of Agriculture and Rural Development, in collaboration with developmental partners in the livestock subsector, is promoting the use of alternative feed ingredients to enhance animal feed supply, reduce production costs, and stimulate economic growth. During a capacity-building program in Abuja, the ministry emphasized the importance of leveraging the agricultural sector for wealth creation and employment generation. In essence, the program aimed to equip stakeholders with knowledge and solutions to overcome challenges caused by the COVID-19 pandemic, floods, and insecurity in the animal feed subsector. The ministry expressed its commitment to supporting feed millers with improved production methods to increase feed production, enhance food and nutrition security, and boost farmers' income.
Futhermore, participants were urged to utilize the gained skills to optimize the use of alternative feed ingredients for cost-effective production. The event saw the distribution of various animal feeds by development partners, farmers, and feed miller representatives. The ministry's efforts align with its vision of sustainable animal feed production and the overall goal of strengthening the livestock subsector to contribute to the country's economic development.
Concerns Sparked for Onion Processors due to ₦300bn Post-Harvest Loss
The National Onion Producers Processors Marketers Association of Nigeria revealed that onion sellers in Nigeria are facing an annual loss of over 300 billion naira due to the absence of proper processing facilities. Despite Nigeria being one of the world's leading producers of onions and garlic, the country still imports onion flakes due to a lack of processing factories. This situation adversely affects farmers in the country. However, the recent start of an onion and garlic processing factory in Sokoto is expected to significantly benefit farmers in the region. Nigerian engineers designed and fabricated the factory, marking an important milestone in the manufacturing industry. The factory aims to reduce post-harvest wastage associated with onions and garlic.
Eko Rice Set to Hit Major Markets in June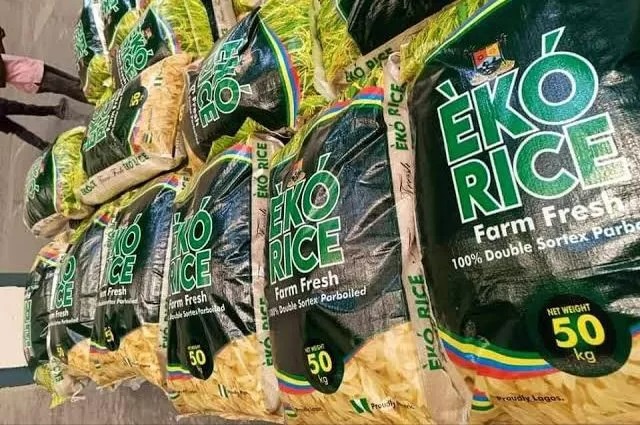 The Lagos State government announced the start of commercial sales of Eko Rice, produced at the Imota Rice Mill. Dr. Oluwarotimi Fashola, the Special Adviser to the Governor on Agriculture and Rice Mill Initiative, stated that the sales began last week in the Ikeja axis, catering to civil servants and institutions in the state. The Eko rice will gradually make its way to major markets by the first week of  June. Fashola provided price details, mentioning that Eko Rice would cost between ₦32,000 and ₦33,000 for a 50kg bag, while a 25kg bag would range between ₦17,000 and ₦18,000. Moreover, he stated that Eko Rice offered fair prices compared to similar quality rice in major markets, where sellers sold it for ₦38,000 per 50kg bag. He assured consumers that they would gradually distribute Eko Rice to maintain its quality.
While we are uncertain about the exact quantity of Eko Rice to distribute to major markets, Fashola highlighted that it would be a monthly process and could not meet the demand of every household due to the large population of Lagos State.
The goal of the government is to provide affordable, and quality rice to the masses through the gradual expansion of distribution channels.
Initiatives to Combat Widespread Hunger in Nigeria
Evidence of widespread hunger in Nigeria is increasing, with 24.8 million Nigerians currently facing acute hunger, according to the United Nations World Food Programme. At the same time, the situation is made worse by rising insecurity, an inactive economy, post-harvest losses, climate change, and a lack of support for farmers. In response, the government at various levels must mobilize resources to address this humanitarian crisis, focused on improving security, helping the economy, and enhancing food distribution systems. Additionally, we need a multi-level approach to empower smallholders, attract investment in large-scale farming, provide training and credit schemes for farmers, and develop infrastructure for storage and processing. Collaboration between the government, private sector, NGOs, and international aid agencies is crucial to ending hunger in the country.
It's a wrap for May's food news! The Nigerian food industry is constantly changing, and we will continue to be on the lookout for exciting news to help bring you up to speed. Nonetheless, we hope that you enjoyed reading this food news as much as we enjoyed writing it. See you next month!