When I'm not writing for Pricepally, I burn time on Twitter, where there's endless chatter about everything. This time, the gist that got me hooked was #5,000 is insufficient to prepare a "rich" Nigerian soup with "plenty obstructions," like meat, fish, and seafood.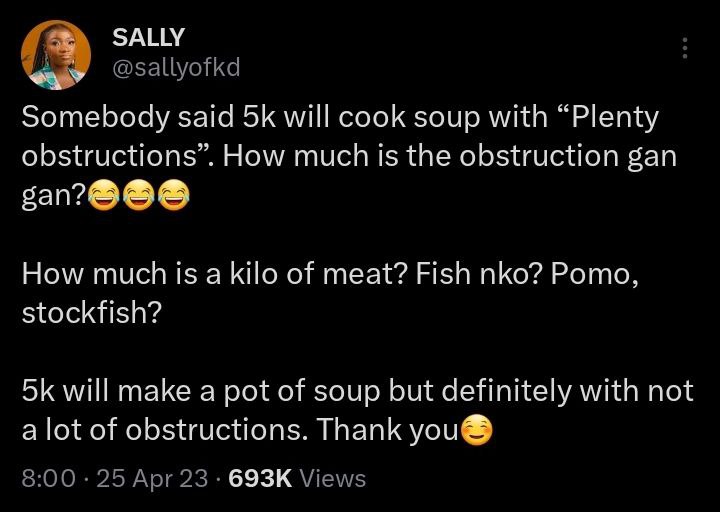 Many Twitter commenters feel it's impractical, and the sentiment is understandable considering the rising cost of food. But with #5,000, which Nigerian soup can you prepare? Read on to find out. 
Which Nigerian soup can I prepare with 5k? 
At Pricepally, we believe cooking a "rich Nigerian soup" shouldn't cost you an arm and a leg. This is why we source food items directly from wholesalers and farmers to make them cheap for you. 
That said, the calculations used in this post exclude seasonings, thickeners, and spices. Instead, the focus is on the main soup ingredients (such as pepper, tomatoes, seafood, etc.,) from Pricepally. 
1. Pepper-tomato stew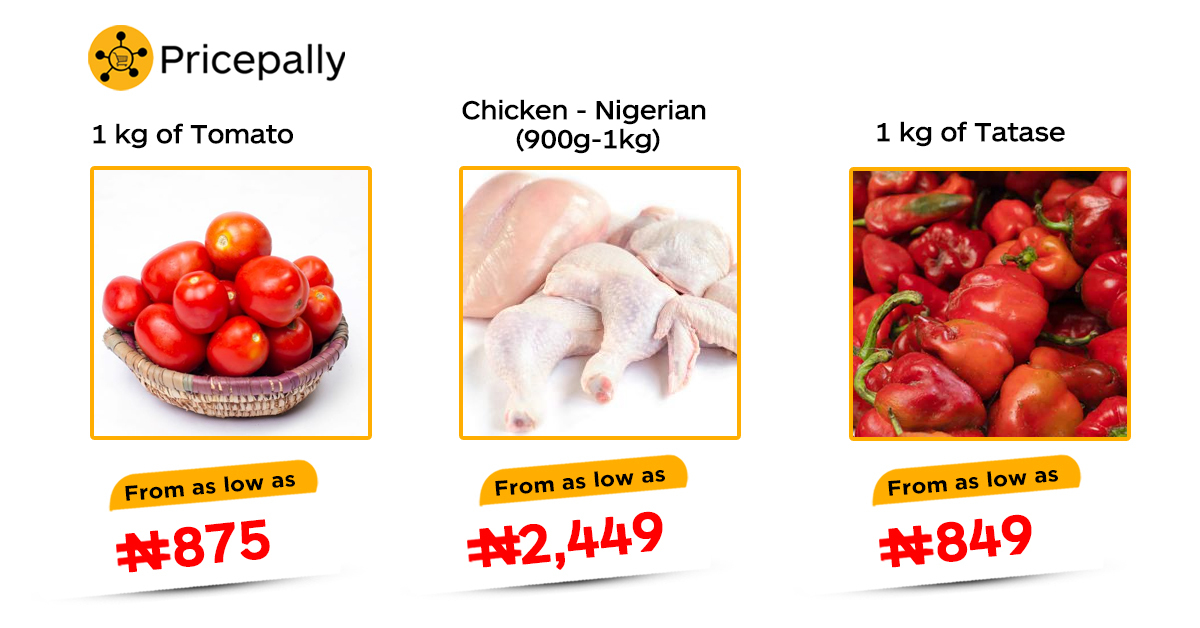 Pepper-tomato stew is a common soup in Nigeria. As you'd have guessed from the name, pepper and tomatoes are the first ingredients you need. Nigerian soups are incomplete without proteins, so you need meat (goat meat in this case).  

These are the main ingredients for pepper-tomato stew. 
Bell pepper (tatase) #849.5

1 kg of tomato #889

1 kg of chicken #2,499
Total #4,237.5
Although 1 paint rubber of tatase costs #1,699 on Pricepally, you can share the price with other shoppers using Pally—the bulk-sharing feature for splitting food prices with up to ten shoppers. 
How to prepare pepper-tomato stew in 5 easy steps
Prepare your chicken stock by adding curry, thyme, seasoning (or nutmeg), salt, and bay leaves. Make a puree of onion, garlic, and ginger. Mix the onion-garlic puree and other seasonings with the chicken.  

Boil for a few minutes. Add some water. Allow to cook for 15-30 minutes. After boiling, separate the chicken from the stock. Use a sieve to filter the stock water. Grill or fry the meat. 

Make your pepper-tomato puree by adding sliced pepper, tomatoes, and onion to a pot. Without adding water, allow it to cook till it gets soft. After cooking, blend the pepper-tomato mixture.

Alternatively, you can make your pepper-tomato puree by blending pepper, tomatoes, and onions without cooking first. Then cook for 30-45 minutes to remove excess water.
Stir-fry onions, seasonings, thyme, and curry in oil for 10–20 minutes. Then add the pepper-tomato puree and chicken stock to the oil. Allow to cook on medium heat for 10-15 minutes.
Add your chicken, and allow your stew to cook for 10-15 minutes. Bon Appétit!
2. Shoko vegetable soup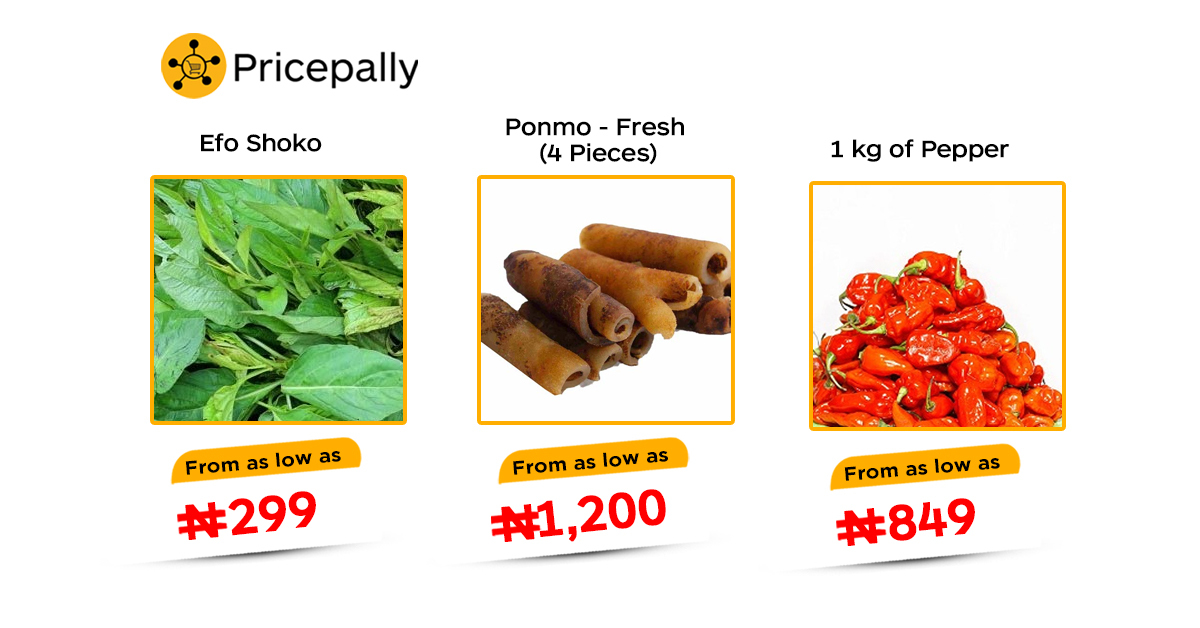 Shoko (also called Lagos spinach or Nigerian spinach) is a non-starchy leafy vegetable that's rich in vitamins and antioxidants that regulate blood sugar levels. Because of its high potassium content, it also lowers blood pressure. 

To prepare shoko vegetable soup, you need the following ingredients. 
1 bunch of shoko leaves #299
Ponmo (4 pieces) #1,200
Tomato #889
Pepper #849.5
Smoked hake fish ("eja egun") #1274.5
Total #4,512
How to prepare shoko 
Blanch your diced shoko vegetables with hot water. Blanching removes dirt and bacteria from vegetable leaves. 

Wash and cut your ponmo and smoked hake fish. 

Blend pepper, tomatoes, and onion. Stir fry the mixture and onion in hot palm oil. During stir-frying, add seasonings, crayfish (optional), locust beans ("iru"), salt, ponmo, and smoked hake fish. Leave it to cook for 10–25 minutes. 

Add the vegetables to the mixture. Allow it to cook for 10–15 minutes. 
3. Stewed okra (
ila alasepo)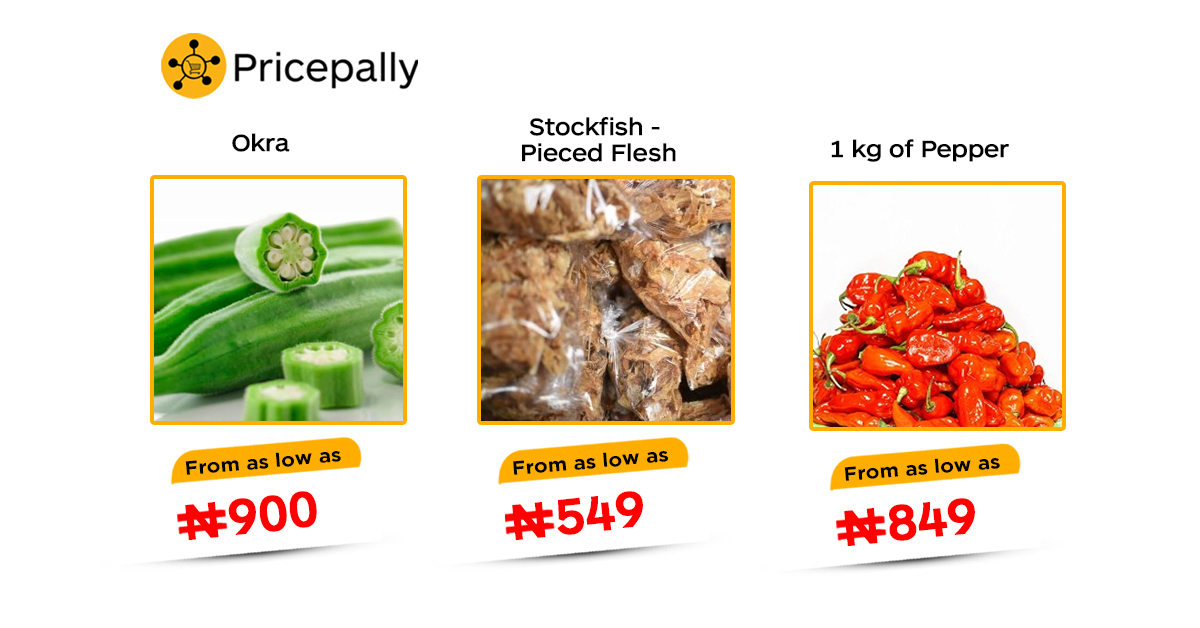 Okra, locally called "ila" or "okuru" in Nigeria, is commonly cooked as ila alasepo in Nigeria. Apart from their spicy taste, okra-rich foods are anti-diabetic because of their high fiber and antioxidant content. 
To enjoy the ila alasepo delicacy, you need these main ingredients. 
Okra #900

Goat meat #2700

Stockfish #549

Pepper #849.5
Total #4998.5
How to prepare
ila alasepo
Dice the okra and pepper and set them aside in separate bowls. 

Wash the goat meat. After washing it, add seasoning, salt, onions, and a little water. Allow it to cook for a few minutes.

Under medium heat, add palm oil, okra, onions, diced pepper, and stockfish to a pot. Add the neat stock, mix it together, and allow it to cook for 5–10 minutes. 

Serve with any "swallow" of your choice, such as fufu, wheat, pounded yam, etc. 
4.
Oha
soup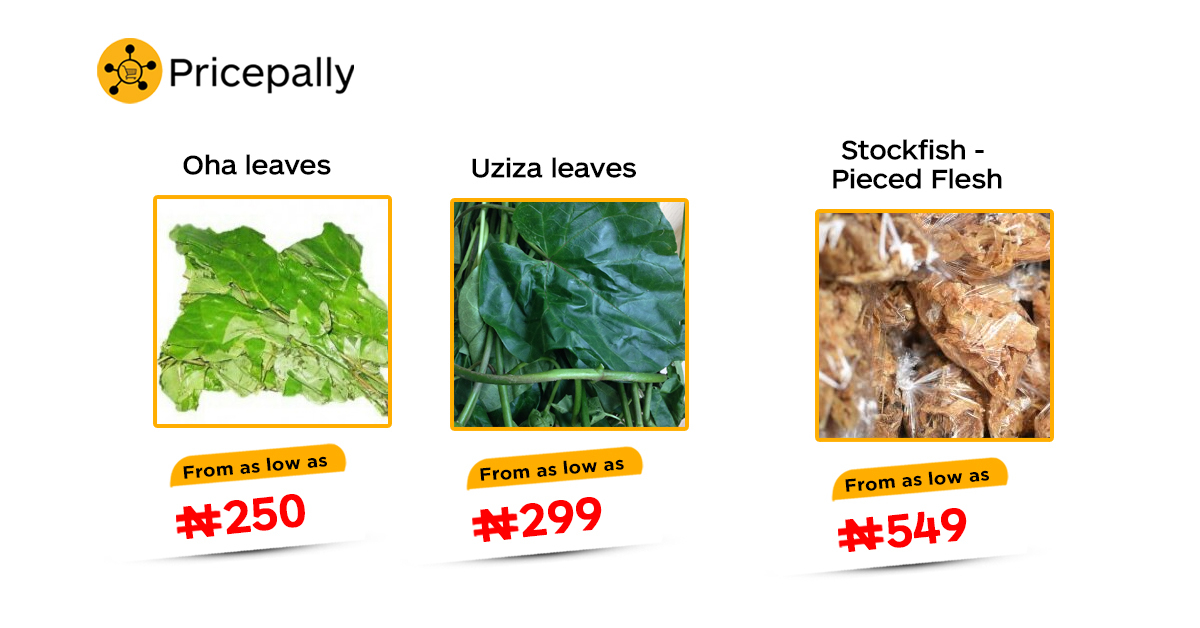 The southern and eastern parts of Nigeria are famous for their love of vegetables. Oha, the leaf of the Pterocarpus mildbraedii plant, is one of their finest delicacies. Also called "ora," it's packed with fiber, amino acids, and calcium that improve the immune system. 

Oha soup ingredients
Oha leaves #250

Uziza leaves #299

Goat meat #2700

Pepper #849.5

Stockfish #549
Total #4647.5
Oha soup recipe
Prepare the meat stock by adding a seasoning cube, salt, and onion to the meat. Blend the pepper and keep it aside. 

Cook cocoyam (thickener) for 2o minutes. After cooking, peel the cocoyam and blend it into a paste. 

Add palm oil and the blended pepper to the fish stock after 5–10 minutes of cooking. Add water and allow it to cook. Then add the cocoyam paste and locust beans ("iru") to the soup. 

Add

uziza

and

oha

leaves to the soup. Allow the soup to simmer for 5 minutes. 
Frequently Asked Questions about Nigerian soups
Which Nigerian soup should I take after losing blood?
In general, foods rich in iron, folate, and vitamin B12 effectively restore blood levels. Nigerian soups, such as spinach ("shoko" or "efo riro"), oha, okra, and melon ("egusi") are rich sources of iron and vitamins. 
Which Nigerian soup should I eat if I have diabetes? 
As a diabetic, you should consume low-carbohydrate foods and soups. Examples of Nigerian soups in this category are 
Okra (use limited palm oil and avoid frying it).

Spinach ("efo riro" and "shoko" vegetables).

Bitter leaf.

Edikaikong

(a blend of spinach, water leaves, and pumpkin leaves). 
Add fatty fish—such as salmon or mackerel ("Titus" and "kote"), herring ("shawa"), and sardines—to the soups. They're rich sources of omega-3 fatty acids, which regulate blood sugar and protect diabetics against heart disease and stroke.
How can I share bulk food with others on Pricepally?  
Pally is the bulk-sharing feature for splitting food prices on Pricepally. All you need to do is select the food item through the mobile app or website and choose the number of people you want to pally with. In some cases, some food items contain a fixed number of people you can split prices with.