Picture this scenario. You're hungry and looking to order food. So, you decided to search for "food delivery apps near me." I'm sure Chowdeck and Glovo will constantly show up, especially if your location is Lagos. 
Both food delivery apps provide on-demand food for "hungry people." But as the cliche goes, no two businesses are the same, raising the question, "Glovo vs Chowdeck: Where should I order food from?" This is why you should read this article to know the delivery app that best serves you. 
Glovo vs Chowdeck: Summary Table
Service offerings 

Chowdeck 

Glovo 

Product/service range

It connects users to restaurants and supermarket stores. 

It provides access to restaurants, supermarkets, and pharmaceutical centers. It provides package delivery services. 

Onboarding process/user-friendliness

It takes less than 10 minutes to register. The app is user-friendly and easy to navigate. 

The app interface is simple and easy to use. The onboarding process takes less than 5 minutes. 

Order channels 

Mobile app and web app.

Mobile app and web app. 

Delivery fee 

It depends on the distance between the restaurants and the recipient's address.

On average, it costs ₦500–₦1,000 for short-mile deliveries. 

It depends on the distance between the vendor and the delivery address. It can go as low as ₦250. 

Extra fee (s)

It charges s

urge, service, and surge fees. 

It includes a product fee. Additionally, Glovo allows courier tipping. The service is optional. 

Referral and bonus schemes 

At the time of writing, users can earn up to ₦1,000 through referrals. 

This is how it works. The referrer will get ₦500 after the first order and another ₦500 on the second order. The referred person will get a ₦500 discount on their first order. 

Chowscore, which indicates your activities on the Chowdeck app, provides access to exclusive discounts and free delivery options.  

Referrers get three free deliveries for every person they refer, while the referee enjoys free delivery on the first three orders. However, Glovo referral conditions are dynamic.

Customer service 

Swift in-app customer support. 

Quick in-app customer service. 

Payment options 

You can pay through:


wallet 

Debit card

You can pay through the following channels: 

Mobile money

cash 

Debit card

Operating locations 

At the time of writing, it operates in Lagos and Abuja. 

Operates in three cities in Nigeria: Lagos, Abuja, and Ibadan. 
Food delivery apps: What does Glovo do? 

Glovo lets you order cooked meals, groceries, and household items. It connects you to the nearest stores for speedy delivery. Sweet Sensation, Chicken Republic, and The Place are some of the restaurants where you can order traditional meals in Glovo. 
The food delivery company operates in over 20 countries across 140 cities worldwide. In Nigeria, it operates in Abuja, Ibadan, and Lagos, where it covers the mainland and Island areas. Generally, Glovo is open 24/7, but the restaurants have specific closing periods. Because it connects you to the closest food spots, Glovo prides itself on delivering food "within minutes" with affordable delivery fees. 
Food delivery apps: How does Chowdeck operate? 

Chowdeck connects food vendors with consumers. The on-demand food delivery company allows you order freshly prepared African and continental meals, snacks, fast foods, and drinks. 
Launched in 2021, the company operates in Abuja and Lagos. In Lagos, they connect you to food vendors in the following areas: Alausa, Alimosho, Amuwo Odofin; Ogudu, Gbagada, Yaba; Ikeja, Ojo, Surulere; and Lekki.
Chowdeck uses Chowscore to reward customers. The score, as Chowdeck explains it, shows customers' participation in the mobile app. The participation covers food ordering, reviews, and referrals to other users. The score allows frequent users to enjoy free delivery coupons and exclusive discounts. 
Glovo vs. Chowdeck: Which should you order food from?
Glovo and Chowdeck provide easy and quick access to cooked food and grocery items. Despite the similarities, there are a few differences you should note. 
1. Service range
Both food delivery apps provide access to cooked meals. But only Glovo can double as a personal shopper to run errands.  For instance, Glovo connects you to the nearest pharmaceutical stores to deliver medical drugs. So, you may want to tilt toward Glovo if food shopping isn't the only item on your to-do list. 
2. Operating areas
Glovo operates in more cities and covers more geographical areas compared with Chowdeck. Based on its wider coverage, Glovo is a more suitable option for long-distance delivery services, especially in Lagos. 
3. Delivery options
Glovo provides scheduled deliveries. The option helps you plan your meals, and it's especially fitting if you're on a strict diet. Although Chowdeck offers scheduled delivery, its availability depends on the food store you're buying from. Some restaurants on Chowdeck also offer pick-up services. 
4. Extra fees
Besides delivery charges, Chowdeck includes surge and service fees. As Chowdeck describes it, the surge fee is a "dynamic flat fee applicable when order demand exceeds available driver supply." Glovo, in contrast, doesn't include surge fees.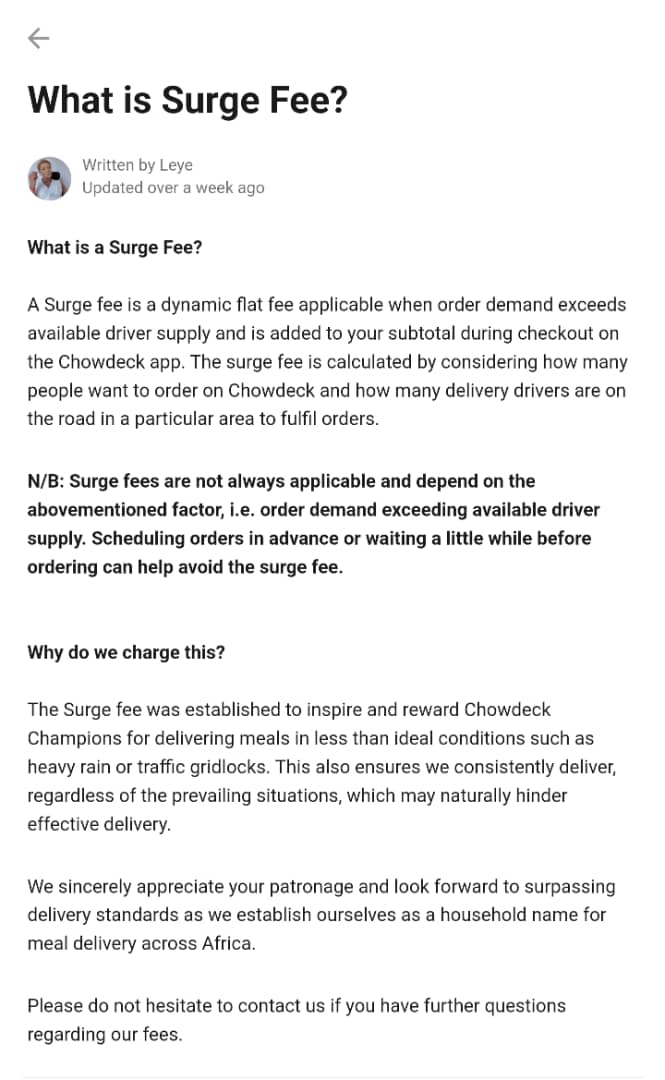 The Chowdeck service fee is a percentage of your bill, excluding the delivery cost. The fee increases as the order amount increases. Chowdeck says it caps the service fee to "prevent it from getting too excessive," and it doesn't apply to every vendor.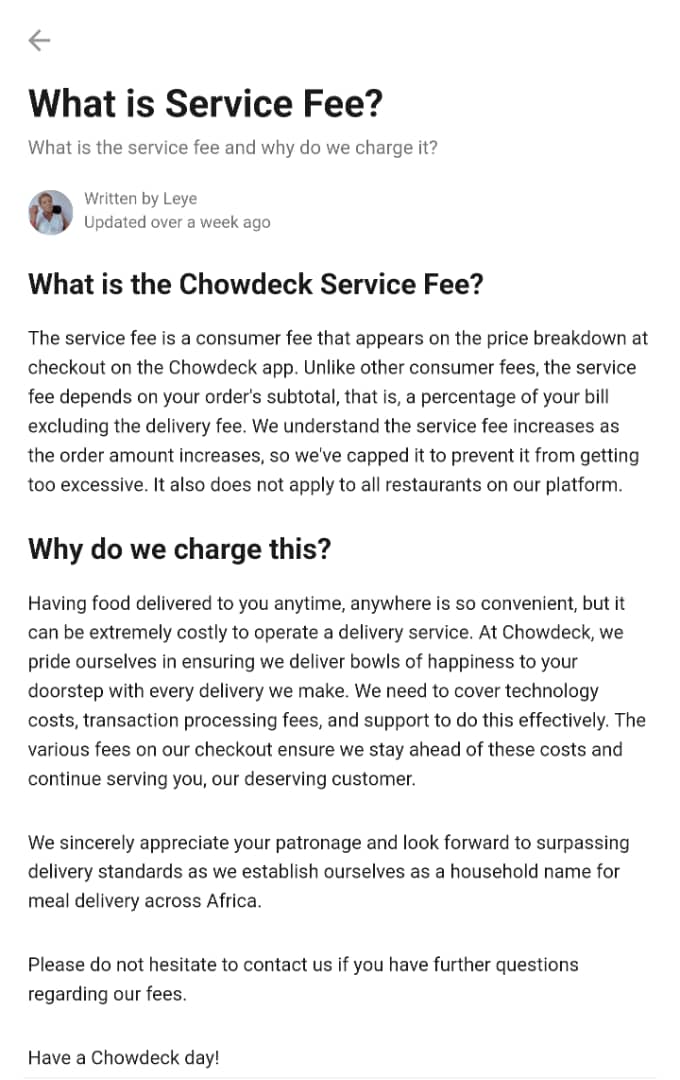 Similarly, Glovo charges a "product fee," which is the commission the management applies to the product cost. The fee is capped at ₦50.
Chowdeck also charges a "small order fee." Users incur the fee when they don't meet the minimum order fee specific restaurants put in place. 
5. Tips 
Glovo lets you tip couriers when you're feeling generous. Couriers are free to accept or decline tips. But Glovo doesn't require dispatch riders to demand tips because the service is optional. Chowdeck, on the other hand, doesn't have tipping or rewarding services for customers.  
Where can I buy groceries online? 
Neither Glovor nor Chowdeck provides access to fresh fruits and vegetables. Pricepally, however, can help you in this regard. Pricepally is the online local market for groceries, baking ingredients, and farm-fresh products. 
Like Glovo and Chowdeck, Pricepally lets you order food through your mobile device (iOS and Android). Unlike the food delivery apps, Pricepally lets you order through WhatsApp, also known as April, Pricepally's shopping assistant. 
Besides shopping convenience, you'll enjoy wholesale prices when you shop at Pricepally. This is partly because we source food items directly from wholesalers and suppliers. The other reason is that you can "pally to buy." Through Pally, you can share the prices of food items with your friends or other shoppers. This way, you can shop for more items with less cash. 
Here's how to use Pally to split pepper prices on Pricepally. 
Log in to Pricepally on the web or mobile app.

Select "Pally (Share)" under the "Select Order Type" button.

Select the portion you want. Surface-level food preparation services like pepper deseeding and vegetable cutting are also available in the extra-service section.

Add to cart or continue to shop.