FoodCourt and Jumia Food are two food delivery apps you'll see while trying to order food in metropolitan cities like Lagos, Abuja, and Port Harcourt. However, you might be struggling to choose between Jumia Food and FoodCourt. We made the decision-making process easy for you by comparing the services of FoodCourt and Jumia Food. 
Can I buy fresh food items at FoodCourt or Jumia Food? 
You probably believe fresh food items are available on FoodCourt or Jumia Food because "they sell food and groceries." But that thought is untrue because neither of the two food delivery apps sells fresh food items. Pricepally, however, can solve your fresh-food delivery dilemma.
Pricepally is an online local market that provides access to quality farm-fresh food items at pocket-friendly prices. Like FoodCourt, we let you split food costs with friends through Pally. Unlike conventional food-sharing services, you can pay for portions without waiting for other group members.
For example, in three steps, you can split the cost of a bag of rice using Pally. 
Log in to Pricepally through the

website

or mobile app (

Android

and

iOS

). Click

Select Order Type.

Choose

Pally (Share)

to access the sharing portions and price. 

Choose the portion you want to buy. 

Add to cart or continue shopping. Then proceed with payment.
The 3-step process works like this: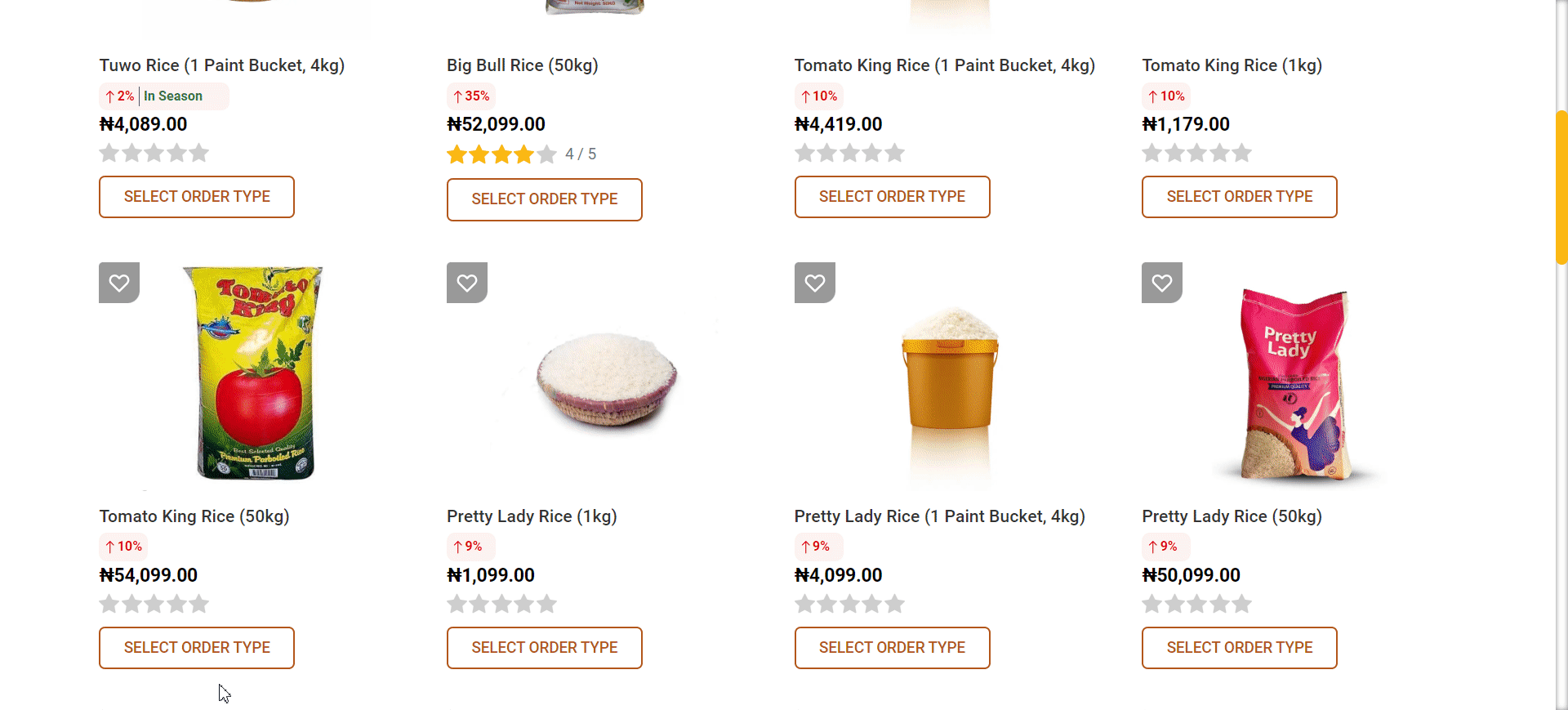 To invite friends to Pally, copy and share the link to the food you want to buy. Depending on the items you want to buy, you can pally with 1–10 people at once. 
Food Court vs Jumia Food: Comparison Table 
Now, let's discuss what you should expect from FoodCourt and Jumia Food. The table below summarizes their services. 
Service offerings 
FoodCourt 
Jumia Food

Service range

It serves as a bridge between food shoppers and restaurants. 

It links food vendors and supermarkets to buyers. 

Order options

Shoppers can order food from a single vendor or multiple restaurants at once. 

It allows you to order food in bulk with your friends and family across brands from different devices in one swoop. 

Only allows retail and bulk orders from a single restaurant at once. It also offers pre-ordering services for efficient meal planning. 

It allows order editing before the serving restaurant accepts the initial request. 

Delivery experience and payment outlets 

Supports instant, pickup, and scheduled delivery options. 

The delivery fee ranges between #390–#850 and almost doubles during a surge. 

 

Its payment options are bank transfers or paying with Paystack (card). It doesn't accept cash on delivery. 

Charges a "minimal fee" for delivery depending on proximity to the vendor. 

It accepts cash on delivery and payment with bank cards. 

Operating locations 

Available in Lagos only. 

Operates in four Nigerian cities: Lagos, Abuja, Port Harcourt, and Ibadan. 
FoodCourt: The on-demand food delivery app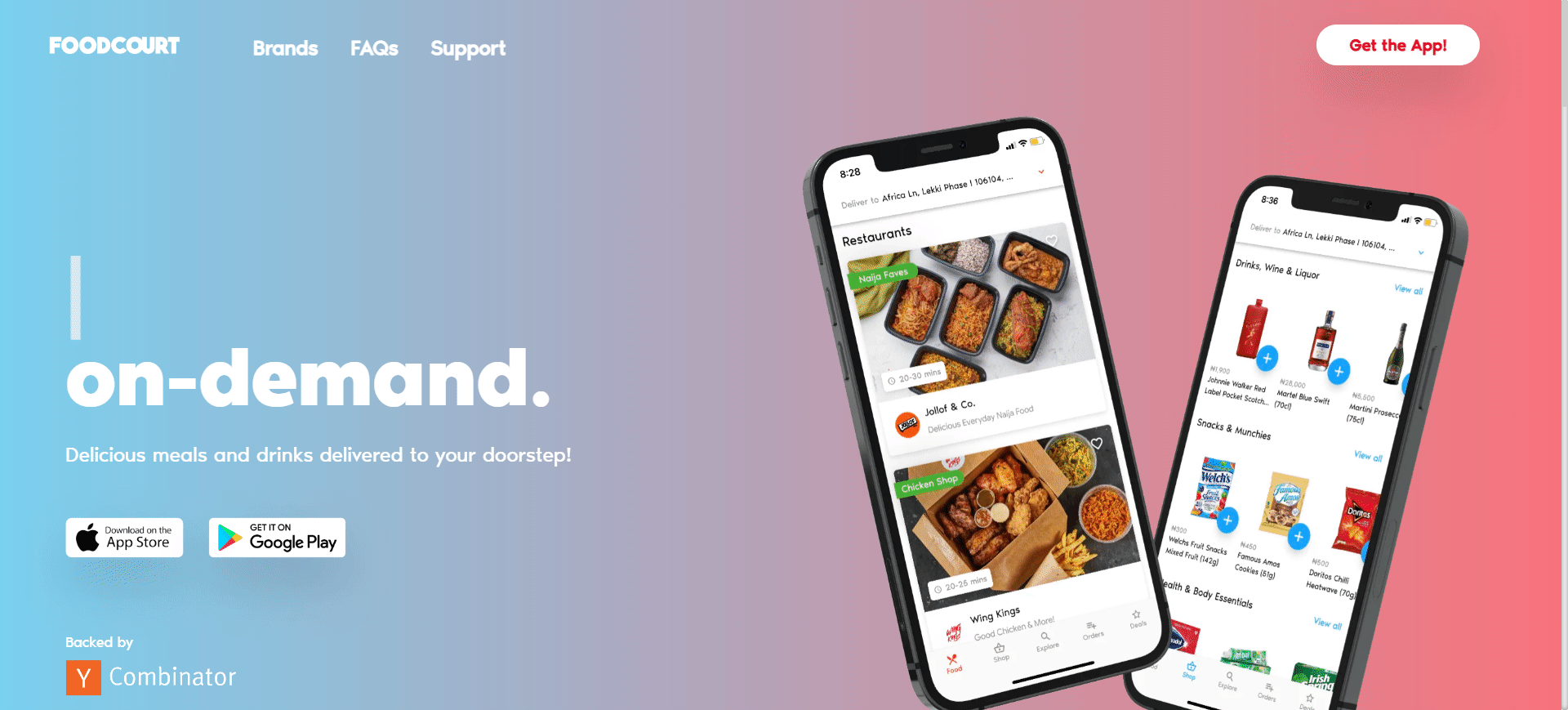 Launched in 2021, FoodCourt provides access to kitchens and restaurants via an app. The virtual restaurant company operates in the Lagos Island environs (Lekki, Ikoyi, Victoria Island, and Marina) as of the time of writing. Wing Kings, Jollof & Co, Sweet Treats, and Mama's Kitchen are some of the brands you can purchase food from on FoodCourt. 
Besides, you can shop for drinks and wine, snacks and sweets, and lifestyle essentials (e.g., toothbrushes, toothpaste, body creams, etc.). Unlike conventional food delivery apps, FoodCourt lets you buy from different restaurants in one order. 
How does Jumia Food operate?
Jumia Food is a restaurant aggregator. The on-demand food delivery service lets you order food from shops, kitchens, and vendors. It operates in Lagos, Abuja, Ibadan, and Port Harcourt. It accepts cash on delivery to enable a seamless food ordering experience. 
Jumia Food or Food Court: Which food app should you use?
FoodCourt and Jumia Food are the answers to the famous "restaurants near me" question you ask when searching for food options on the search engine. They connect you to the closest restaurants near you with an easy onboarding app experience and prompt customer service to resolve your complaints. 
Furthermore, both food apps ensure speedy food delivery for minimal fees. Despite the similarities, there are a few differences you should note. 
1. The service options
Besides hosting popular eateries like KFC Delivery, Bukka Hut, and The Place, Jumia Food is the home of more than 20 restaurants. The restaurants serve snacks, beverages, and cooked meals, including African delicacies, Chinese cuisines, and American dishes. FoodCourt, on the other hand, currently has less than 20 food stores and lifestyle shops.
Jumia Food connects you to grocery stores and supermarkets, unlike FoodCourt, whose food services are restricted to cooked food and snacks, wine and liquor, and household essentials. But in some cases, some vendors demand a "minimum order value" before purchase.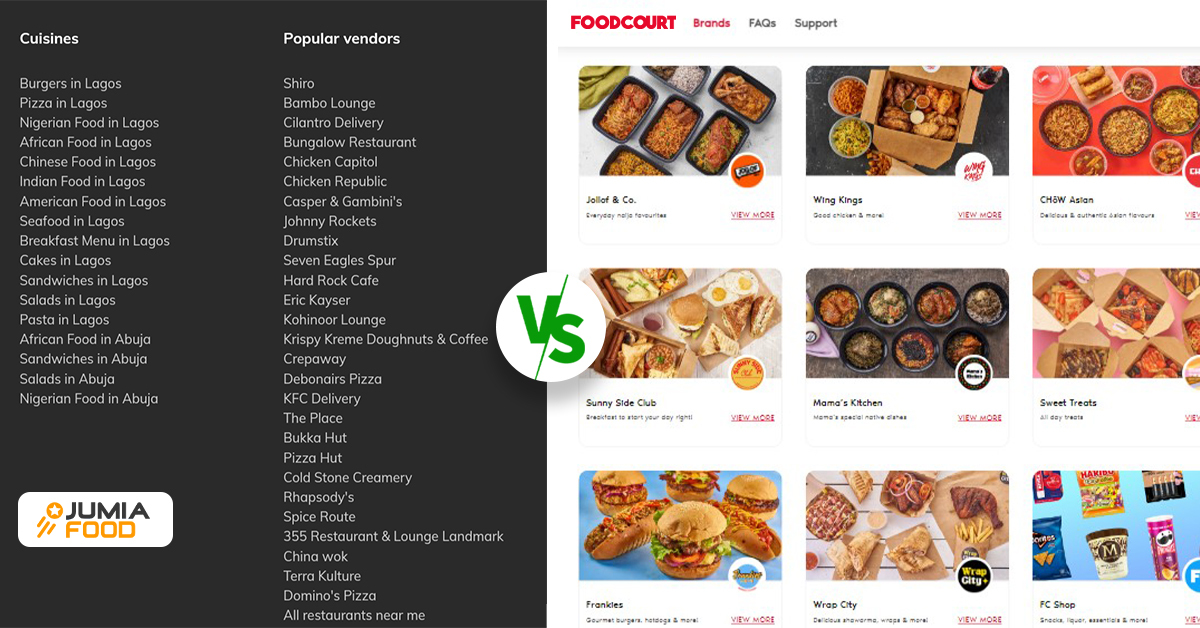 Food vendors available on FoodCourt vs Jumia Food
2. Order modes
FoodCourt lets you experience multiple restaurants at once. In this sense, FoodCourt is like a food mall with different sections. All you need to do is buy from your preferred segment, add to the cart, and checkout. 
Additionally, FoodCourt enables group shopping. The service lets you pay for everyone, albeit with a spending limit, or split the bills with fellow food buyers. The order host is responsible for the delivery fee, which doubles when group shopping participants exceed 12. 

In contrast, Jumia Food neither permits buying from multiple brands within the same order nor group shopping. Instead, you can buy several dishes from the same restaurant in the same order. You have to shop several times for bulk food purchases on Jumia Food, with each purchase attracting independent delivery fees. Jumia Food also supports pre-ordering from selected restaurants.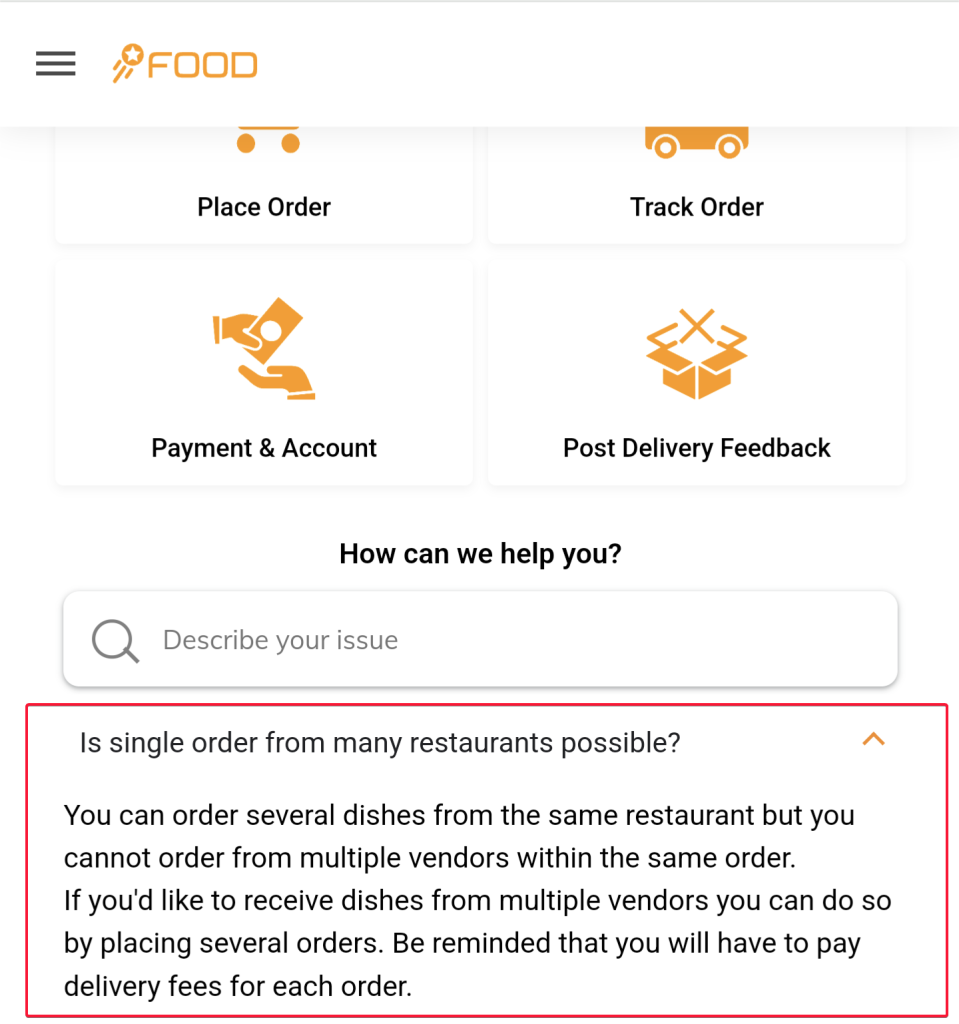 3. Operating locations
As of the time of writing, Jumia Food operates in more cities in Nigeria (Lagos, Abuja, Ibadan, and Port Harcourt) than FoodCourt, which services only customers in Lagos Island (e.g., Marina, Victoria Island, Lekki, and Ikoyi) alone. 
4. Payment services 
Jumia Food supports cash on delivery and payment through bank transfers or Paystack. In contrast, FoodCourt only supports cashless payments. 
5. Delivery 
Jumia Food supports conventional instant doorstep delivery, whereas FoodCourt provides pickup and scheduled delivery options.
Key takeaways from the Jumia Food vs FoodCourt comparison
Jumia Food has more food vendors and shopping options than FoodCourt. 

FoodCourt is cost-effective and time-saving for large-scale orders because of its multi-brand shopping, bill splitting, and group order capabilities. 

Jumia Food has more reach than FoodCourt in Lagos and other Nigerian cities. 

Jumia Food has more flexible payment options than FoodCourt. 

Meal planning is easy with FoodCourt because of its scheduled delivery and group order functionalities.