Why is Garri Expensive?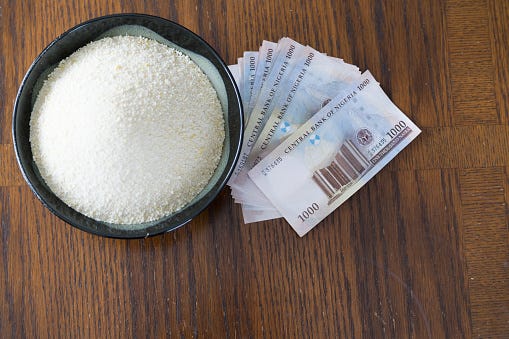 Garri constitutes more than 70% of total cassava consumption in Nigeria making it one of the staple food items consumed. It is eaten by every family irrespective of their socio-economic status and religious background and gets considerable preference on the household daily budget. Despite all of this, Garri is still beyond the reach of many.
Reports show the market price of the product has increased tremendously, with as high as over 100 percent since January 2020. The matter was made worse as a result of the coronavirus pandemic (COVID-19), which negatively impacted farmers' productivity.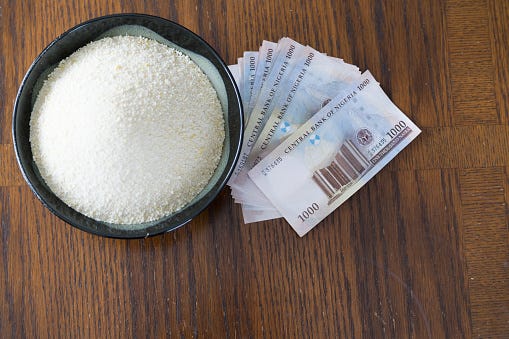 From this chart, we can see that prices have been on a continuous rise since January 2020 with a decrease in November only resulting from the ease of the lockdown and the need for farmers to sell off their produce.
On a month-on-month basis, the cost of Garri experienced an upward movement from January — October. Prices significantly dropped in November from N320 in the previous month to ₦240 per derica and picked up at ₦300 in December till its peak at ₦528 in August 2021 totaling more than 150% increase from where it began in January 2020.
Reports show that the reason for the increase in Garri prices in 2020 can be attributed to the general lockdown which halted the activities of farmers. Others also attributed the high prices to the dry season and texture of farmland which was described as "too hard' for harvest.
Another factor to consider is the demand to supply ratio. The annual demand for Garri is estimated at 1,000,000 tonnes, while the supply estimate is about 250,000. In Nigeria, the supply gap of Garri has continued to expand as the population continues to grow, leading to rising costs.
Other factors include an increase in the price of inputs and fertilizer; exchange rate; rural-urban drift, leading to a reduction in the number of cassava farmers, among others, but a major challenge according to investigations is the manual processing of garri, which has been the practice.
Many garri producers have not adopted the modern garri processing method, they still peel the cassava, press it manually, and also fry manually, unlike the modern method of using cassava peeler.
Reports show that the cost of producing manually compared to modern methods forces producers to increase prices to enjoy some level of profit.
The conditions of food scarcity and insecurity resulting from the continuous increment in cost are nothing short of alarming. According to Nigeria's National Bureau of Statistics (NBS), 68% of households in Nigeria have been experiencing food insecurity since August 2020. Nigeria also recorded a food inflation rate of 21.79% in February 2021, the highest the country has recorded since 2015, and headline inflation of 17.33%, marking the 18th consecutive month of rising inflation in a country where 56.5% of their income is spent on food.
In our view, Nigeria's peculiar food security challenges are well rooted in an inefficient system of food distribution plaguing the African continent. Although the COVID 19 pandemic played a huge role in halting farm productivity, it can be agreed that the country in its state would not be able to survive the threat of famine. Its lack of storage facilities and inability to define its key players in the value chain has given room to loss of profit and exploitation of the masses.
By connecting Nigerian customers directly to farmers and wholesalers, Pricepally is mitigating the worsening food crisis in the country, through the provision of easy and affordable access to food items.
Written by Eunice John