Food News: Pricepally secures subsidized tomatoes for users.
Happy Thursday! 🌞
Last week, we announced on Twitter that we would be part of the panel at this year's Afrobyte event. We went to Paris and here are a few things we think you should know.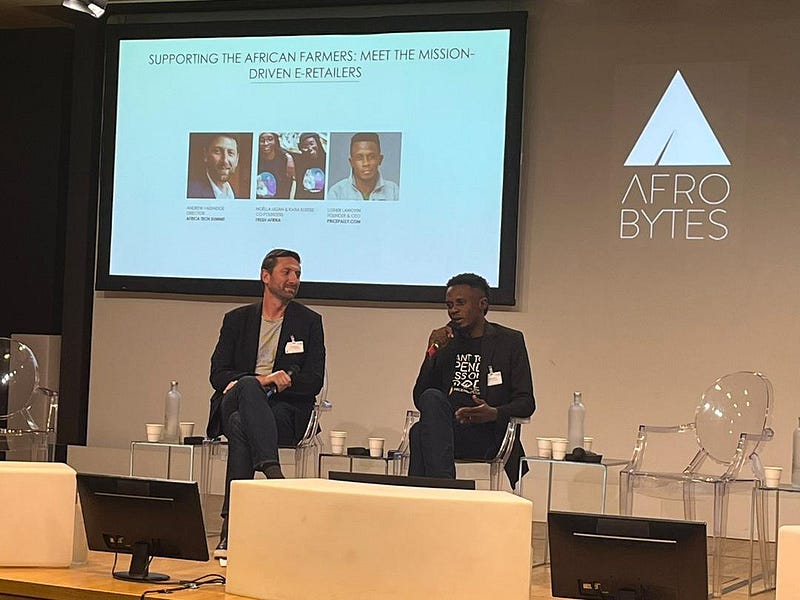 What is Afrobytes?
Afrobytes is a European-based tech startup dedicated to supporting African tech in the diaspora by redefining the relationship between Europe and Africa. Afrobytes sets the stage where players from both continents connect and operate as equals in providing business solutions through Technology. Industry experts come together to empathise with the African economy's current problems and provide solutions through meaningful conversations.
Learn more about Afrobytes here
The New Frontiers of Innovative and Sustainable African Agriculture.
In a soon-to-be-published Expose with founder and Industry expert Luther Lawoyin, the reception of Pricepally as one of the new frontiers of innovative and sustainable African agriculture was met with enthusiasm by the panellists and attendees. Conversations surrounding food security challenges have been had worldwide, especially with the looming catastrophe of climate change on crops and livestock. According to Luther, the panels understand that food security is a challenging but massive opportunity that needs more ventures and funding.
In summary, Afrobytes brought to light the specific challenges affecting African agriculture while emphasising that Africa needs as much investment in innovation as in basics like mechanisation, research and development.
In today's Edition:
Tomato Prices Increase in the rainy season.
How Transportation affects Food Prices
Tanzania Works on Strategies to Adopt Organic Farming
Mastercard and Ecobank Group Partner to Digitize Agricultural Value Chains in Africa
Agrvision to Develop Smart Crop Monitoring Using AI-Powered Portal
Tanzania Works on Strategies to Adopt Organic Farming
Tomato Prices Increase in the Rainy Season.
From the well-in-demand local Omi Obe to the Intercontinental Spaghetti Bolognese or even a healthy salad bowl, Tomato has become an essential food item in Nigeria today.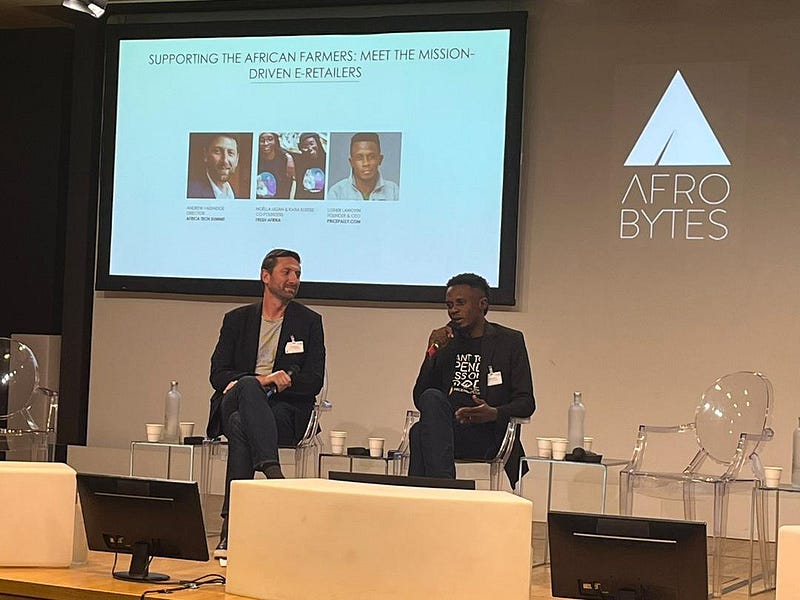 The prices of tomatoes in Nigeria between May — July increased by as much as 200%. This trend has occurred for the past decade. No matter what, the prices of tomatoes in Nigeria must rise from May to July yearly.
Asides from insecurity issues, the primary factor can be attributed to planting disruptions caused by heavy rainfall. Bad roads, erosion and poor storage facilities all contribute to the increase of tomatoes this season.
For Pricepally users, Tomatoes supply is secure as adequate planning has been made with longstanding partnerships with farmers to ensure that consumers get quality supply all year round.
How Transportation affects Food Prices
Asides from the inefficiencies plaguing the Agriculture system, other peculiar factors are fuelling abnormal rises in food prices. Demand for rice, for example, is more significant than local supply amid restrictions placed on its importation, thus fuelling a hike in price. Production of maize and soya beans, to mention a few, is also inadequate amid soaring demand and import restrictions.
The price of diesel has affected the cost of long-distance food transportation, especially from the northern to the south. Diesel has significantly contributed to a food price hike of N600/700 per litre. Also, unregulated transport and haulage fares indiscriminately fixed by transporters are not correspondingly proportional. Expensive warehouses, food malls, and the higher cost of renting traded shops have added to the cost of food. Securing space in popular food markets across the country costs a fortune, and prices produced and products become unaffordable in cities as ancillary costs are added as the landing costs, determining selling prices.
The deplorable state of the roads often leads to frequent breakdowns of trucks conveying fresh and perishable goods, leading to food loss in transit and the consequence of higher prices. Roads from food-producing rural communities across the country are primarily untarred, ungraded and largely deplorable. It is hell for even the rugged vehicles to commute most of the rural roads leading to food production hubs.
Apart from the preceding food sector, stakeholders have also pinpointed a hike in diesel price following its liberalisation and disruption in supply chains as a result of the ongoing war between Russia and Ukraine; higher food haulage and transportation costs; expensive intra-city transportation networks and fresh food spoilage in transit as some of the ancillary factors.
Mastercard and Ecobank Group Partner to Digitize Agricultural Value Chains in Africa
Mastercard and Ecobank Group have partnered to connect millions of smallholder farmers in Sub-Saharan Africa to Mastercard's Farm Pass. This digital platform makes it safer and more accessible for farmers to sell their produce at a fair price. Under the partnership, Ecobank will extend the reach and impact of the Mastercard Farm Pass platform leveraging its Pan-African network of 33 countries.
Many smallholder farmers in Sub-Saharan Africa face several challenges. These include limited market access, working capital to finance activities or specific quality inputs, and relevant financial tools to pay and get paid efficiently. This has led to insecurity, inefficiencies, and a waste of resources and food, preventing farmers from running sustainable businesses.
Farm Pass brings together various agri-sector stakeholders from the supply and demand sides in one agricultural marketplace, amplifying the collective positive impact on farming communities. Smallholder farmers can sell their produce at a better price, access quality inputs and agriculture information, get paid and pay digitally and develop a financial profile that can unlock financing opportunities for working capital and inputs.
The Mastercard Farm Pass collaboration with Ecobank Group fits well with the intent of the African Development Banks' recently approved Africa Emergency Food Production Facility (AEFPF), which is to support countries to boost production and productivity on the continent for crucial staples. The facility above connects farmers through e-wallet systems, i.e. digitising agro-input procurement.
Since its launch in 2015, Mastercard Farm Pass has reached nearly one million smallholder farmers in Uganda, Tanzania, Kenya, and India, enabling them to command 25%-50% higher prices and increase harvest productivity. Farm Pass is part of Mastercard's strategy to connect underserved communities to essential services through Community Pass. This shared interoperable digital platform supports the company's commitment to connecting one billion people and 50 million small and micro businesses to the digital economy by 2025.
Agrvision to Develop Smart Crop Monitoring Using AI-Powered Portal
The Directorate of Resource Surveys & Remote Sensing (DRSRS) and the Kenyan Smart Agri-Tech Company (Agrvision) have signed a five years strategic partnership plan in the form of a memorandum of understanding (MoU) to develop a nationwide unified platform for crop monitoring and yield forecasting powered by Satellite imagery and artificial intelligence. The agreement aims to bring the two entities' expertise into action to develop an intelligent unified platform to monitor and classify crops around Kenya digitally and provide an advanced analytics tool to enhance data-driven decisions. This will contribute to the social and economic development of Kenya's agriculture and forestry sectors.
Tanzania Works on Strategies to Adopt Organic Farming
Tanzanian authorities are working on strategies to adopt organic farming and doing away with industrial fertilisers and pesticides that are a health hazard to humans. Prime Minister Kassim Majaliwa told parliament in Dodoma, the capital of Tanzania, that industrial fertilisers and pesticides also harmed soil fertility. He said the Ministry of Agriculture, in collaboration with other agricultural stakeholders, motivates farmers to engage in organic farming. Majaliwa said plans were also underway to introduce a special department in the Ministry of Agriculture to supervise and encourage farmers to engage in organic farming.
Pricepally is a food-tech startup bridging the gap between those who want access to the best when it comes to food purchases. It's effortless. You order products on the Pricepally app or pricepally.com, and we deliver them to you as early as the next day.
Sign up; it's free